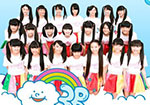 A member of 3B Junior fell into a coma after an accident during the recording of a variety show.
On January 28, 5 members of the idol group were participating in a program for TV Asahi. They were playing a voice changing game using Helium. A member of 3B Junior, whose name hasn't been revealed yet, lost consciousness after inhaling the gas. The 12-year-old idol was rushed to hospital.
According to TV Asahi managing director Takeda Toru, the girl is still unconscious but she is making some improvements. Doctors believe that she will recover soon.
Police launched an investigation on the incident.
We wish her a speedy recovery.