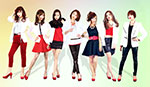 7cm is a Japanese idol group formed in May 2013.
It currently consists of 7 members who were formerly part of SDN48.
SDN48 disbanded on March 31, 2012, at NHK Hall. They came back on year later to hold a special concert. Some members of the unit decided to create 7cm with the aim to perform again at NHK Hall in the future.
The name of the group, 7cm, refers to the height of their heels.
Their 1st mini-album 7cm was released in January 2014.
Profile
7cm
Years active : 2013 – present
Label : –
Agency : Avex
Members
Ito Mana (伊東愛)
Imayoshi Megumi (今吉めぐみ)
Umeda Haruka (梅田悠)
Kaida Jyuri (甲斐田樹里)
Kato Mami (加藤雅美)
Konan (こなん)
Hosoda Miyuu (細田海友)
Discography
Singles
Albums
Links
News