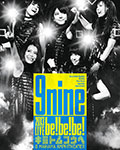 9nine 2013 Live Be! Be! Be! -Kimi to Mukou e- (be! be! be! (びびび) -キミトムコウヘ-) was released on DVD and Blu-ray on July 16.
9nine's concert was held on November 4, 2013 at Maihama Amphitheater.
The trailer has been released.
Furthermore, 9nine Dream Live in Budokan will be held on August 21, 2014 at Nippon Budokan in Tokyo. It will be the first concert of the idol group at this famous venue.
Their latest album Magi9 Playland is on sale since June 18.
Setlist
Opening
Cross Over
Ryuusei no Kuchizuke (流星のくちづけ)
Just a Koi (Just A 恋)
Yasashii Ame (やさしい雨)
-MC1-
9nine o'clock
Tick Tack 2nite (チクタク☆2NITE)
Anemone Mone (アネモネもね)
Dance Corner
Evolution No.9
koizora
Re:
-MC2-
Romantic moon
Brave
Shoujo Traveler (少女トラベラー)
Shining☆Star
colorful
One Kiss
Konwaku Confuse (困惑コンフューズ)
-MC3-
Tsuzuku Tsuzuku… (つづくつづく…)
Ending
– Encore –
Darling, Darling (ダーリン、ダーリン)
I am…
Trailer (Video)