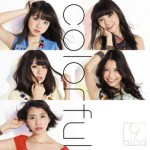 9nine's new single Colorful will be released on February 6.
Colorful is the theme song for the theatrical anime Star Driver The Movie (スタードライバー The Movie) starring 9nine members.
The limited editions include a bonus DVD featuring live performances from 9nine one-man Live "Yaon no 9nine" (9nineワンマンライブ"野音の9nine") held on August 19, 2012 at Hibiya Open-Air Concert Hall.
The anime edition includes the music video.
Tracklist
Regular Edition

CD

Colorful
Yasashii Ame (やさしい雨)
Shoujo Traveler (少女トラベラー) (Tofubeats Remix)
Colorful (Instrumental)
Yasashii Ame (やさしい雨) (Instrumental)
Type A

CD

Colorful
Yasashii Ame (やさしい雨)
Shoujo Traveler (少女トラベラー) (Tofubeats Remix)
Colorful (Instrumental)
Yasashii Ame (やさしい雨) (Instrumental)

DVD
9nine one-man Live "Yaon no 9nine" (9nineワンマンライブ"野音の9nine"), 2012.8.19

Koizora
Ryuusei no Kuchizuke (流星のくちづけ)
Ikeru, Ikeru! (いける、いける!)
Type B

CD

Colorful
Yasashii Ame (やさしい雨)
Shoujo Traveler (少女トラベラー) (Tofubeats Remix)
Colorful (Instrumental)
Yasashii Ame (やさしい雨) (Instrumental)

DVD
9nine one-man Live "Yaon no 9nine" (9nineワンマンライブ"野音の9nine"), 2012.8.19

9nine o'Clock
Konwaku Confuse (困惑コンフューズ)
Shining☆Star
Anime

CD

Colorful
Yasashii Ame (やさしい雨)
Shoujo Traveler (少女トラベラー) (Tofubeats Remix)
Colorful (Instrumental)
Yasashii Ame (やさしい雨) (Instrumental)

DVD

Colorful (Music Video) ("Star Driver The Movie" Special Collaboration)
Music Video (PV)