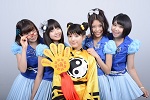 Kawashima Umika (9nine) will star in the drama Hao Hao! Kyonshi Girl ~Tokyo Denshidai Senki~ (好好!キョンシーガール〜東京電視台戦記〜).
Kawashima Umika plays the role of a Daoshi (a priest in Taoism) fighting against Jiang Shi (Chinese vampire or zombie).
Other 9nine members Satake Uki, Nishiwaki Sayaka, Yoshii Kanae, and Murata Hirona will also play in the series.
The drama will start airing on TV Tokyo on October 12.
9nine perform the theme songs Iiaru! Kyonshi feat. Hao Hao! Kyonshi Girl / Brave (イーアル! キョンシー feat. 好好!キョンシーガール / Brave). It will be released as a single on November 14.
Trailer