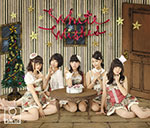 9nine's 8th single White Wishes will be released on December 12.
The title song is used as ending theme for the anime series Tonari no Kaibutsu-kun.
The limited editions include a DVD featuring music videos or video footage from 9nine's Live Seinenkan no 9nine (青年館の9nine) held at Nihon Seinenkan on May 6, 2012.
Regular Edition
CD

White Wishes
Romantic Moon
Tic Tac☆2nite (チクタク☆2nite) (tofubeats remix)
White Wishes (Instrumental)
Romantic Moon (Instrumental)
Limited Edition (Type A)
CD

White Wishes
Romantic Moon
Tic Tac☆2nite (チクタク☆2nite) (tofubeats remix)
White Wishes (Instrumental)
Romantic Moon (Instrumental)
DVD

White Wishes (Music Video)
White Wishes (Music Video Making-of)
White Wishes (Dance Shot Ver.)
Limited Edition (Type B)
CD

White Wishes
Romantic Moon
Tic Tac☆2nite (チクタク☆2nite) (tofubeats remix)
White Wishes (Instrumental)
Romantic Moon (Instrumental)
DVD

9nine Live Seinenkan no 9nine

Cross Over
#Girls
Ryuusei no Kuchizuke (流星のくちづけ)
Limited Edition (Type C)
CD

White Wishes
Romantic Moon
Tic Tac☆2nite (チクタク☆2nite) (tofubeats remix)
White Wishes (Instrumental)
Romantic Moon (Instrumental)
DVD

9nine Live Seinenkan no 9nine

Fly
Orange Days (オレンジdays)
Wonderful Days
Anime Edition
CD

White Wishes
Romantic Moon
Tick Tack☆2nite (チクタク☆2nite) (tofubeats remix)
White Wishes (Instrumental)
Romantic Moon (Instrumental)
9nine – White Wishes (PV)