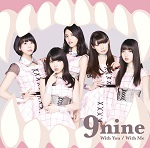 9nine's new single With You / With Me will be released on March 12.
This is the 16th single from 9nine. 6 versions are available.
It is the ending theme song for the anime Magi (マギ).
The MV has been released. However, the video is restricted to a few countries.
With You / With Me is a song different from 9nine's previous singles. It shows a new side of the idol group.
The message of the song is "let's go together". It represents the common destiny between 9nine and their fans to grow together.
The CD contains 3 songs and their instrumental versions. The tracklist is the same for each edition.
The limited editions come with a bonus DVD with either the music video and its dance shot version, or live footage from Evolution No.9 Summer (エボサマ) held at Zepp DiverCity on July 20, 2013.
Furthermore, 9nine Dream Live in Budokan will be held on August 21 in Tokyo. This event will be their 1st concert in such a big venue.
Tracklist
CD

With You / With Me
Positive (ポジティ部)
Party9
With You / With Me (Instrumental)
Positive (ポジティ部) (Instrumental)
Party9
DVD (Type A)

With You / With Me (Music Video)
With You / With Me (Dance Shot ver.)
DVD (Type B)

Evolution No.9 Summer (エボサマ) at Zepp DiverCity / 2013.7.20 Live DVD

Opening Dance ~Shoujo Traveler (~少女トラベラー) (Full Size)
Anemone mo ne (アネモネもね) (Full Size)
DVD (Type C)

Evolution No.9 Summer (エボサマ) at Zepp DiverCity / 2013.7.20 Live DVD

One Kiss (Full Size)
Evolution No.9 (Full Size)
16-page Photobook (16Pフォトブック付き) (Type D)
Music Video (PV)
Live