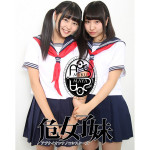 Abunai Onnanoko Sisters (危ない女の子シスターズ) is a Japanese idol group formed in February 2012. They are also known as AOS.
The unit currently consists of one member.
The girls are also gravure idols.
Biography / History
Abunai Onnanoko Sisters hold regular live performances at Akiba On Stage in Akihabara in Tokyo.
The 2 original members were Takaoka Miku and Kosaka Maya.
Their 1st single You Jou Houseki Topaz (You情☆宝石トパーズ) was released in February 2012.
Serizawa Minami joined the idol unit in July 2012. She withdrew in June 2013.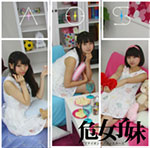 Abunai Onnanoko Sisters' 1st album AOS went on sale in July 2013.
Akizuki Yume replaced her one month later. She graduated in November 2013.
The idol group participated in Allover project.
Kosaka Maya announced her graduation in August 2015.
As a result, Takaoka Miku is the only remaining member.
Abunai Onnanoko are on an indefinite hiatus.
Profile
Abunai Onnanoko Sisters (

危ない女の子シスターズ

)
Years active : 2012 – 2015
Label : Athena Music
Agency : –
Members
Former Members
Serizawa Minami (芹沢南)
Akizuki Yume (秋月ゆめ)
Kosaka Maya (香坂まや)
Discography
Singles
03/03/2012 : You Jou Houseki Topaz (You情☆宝石トパーズ)
06/10/2012 : Magical Power (マジカルパワー)
18/12/2012 : Forward
31/03/2013 : Actress
04/12/2013 : Kokoro no Sukima (ココロノスキマ)
Albums
31/07/2013 : AOS
29/09/2013 : AOS -Online Ver.
Links
News