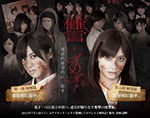 Sengoku Minami and Sato Ayano (Up Up Girls) will be starring in the horror movie 讐 ~Ada~.
The other girls of the group (Furukawa Konatsu, Mori Saki, Arai Manami, Saho Akari, Sekine Azusa) and some members of LinQ (Maikawa Aya, Ito Maki), Vanilla Beans (Rena, Risa), Caramel Ribbon (Ueno Amane, Yoshinaka Aoi, Fukata Seina), and Lyrical School) will have a supporting role.
The story takes place in a school in which mysterious murders happen.
The movie was directed by Shiraishi Koji and produced by T-Palette Records. All the idol units listed above are part of this label.
讐 ~Ada~ will be released on July 13.
Trailer