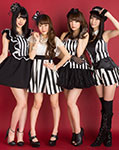 AeLL's new single Cinderella Summer Time (シンデレラ サマータイム) will be released on August 7.
It is the 6th single of AeLL.
The CD contains 2 songs and their instrumental versions.
Only one edition is available.
Furthermore, AeLL is going to perform at various idol festivals in July and August across Japan.
Tracklist
Cinderella Summer Time (シンデレラ サマータイム)
Everybody Say
Cinderella Summer Time (シンデレラ サマータイム) (Instrumental)
Everybody Say (Instrumental)