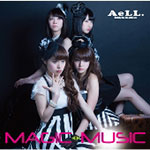 AeLL's 5th single Magic Music will be released on March 31.
The CD contains 2 original songs.
AeLL will hold release events from April 2 to 7.
The idol group is also performing AeLL Hatsu 3 Daitoshi One-Man Live (AeLL.初3大都市ワンマンLive) in Nagoya, Osaka, and Tokyo from March 16 to 31.
Tracklist
Magic⇔Music
Maizakura (舞桜)