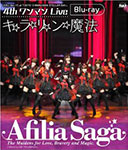 Afilia Saga 4th One-Man Live Kirarin Mahou (4thワンマンLive キ☆ラ☆リ☆ン魔法) has been released on DVD and Blu-ray on June 26.
The DVD and the Blu-ray include the 23 songs performed at the live performance.
The concert was recorded on December 15, 2012 at Shinagawa Stellar Ball in Tokyo.
Furthermore, Afilia Saga's 10th single Neptune Sagashite (ネプテューヌ☆サガして) will go on sale on August 7.
Setlist
Dear Senpai ~Member Jigoshoukai Song~ (Dear センパイ ~メンバー自己紹介ソング~)
Kindan Muteki no Darling (禁断無敵のだーりん)
Baisoku Renai Tokei (倍速恋愛時計)
Tantei☆Rhapsody (Tantei☆ラプソディ)
Meridin no Inori (メリディンの祈り)
Luminous no Izumi (ルミナスの泉)
Mirai ga Watashi wo Matteiru (未来が私を待っている)
Jutsu Shiki wa Dareka no Tame ni (術式は誰かのために)
My White Ribbon
Triangle Wave
Opera Fantasia (オペラファンタジア)
Venus☆Megamix! (ヴィーナス☆女神っくす!)
Sorairo Days (空色デイズ)
Survive!!
La*La*La* Revolution (La*La*Laラボリューション)
Watashi☆Love na☆Otome! (ワタシ☆Loveな☆オトメ!)
Kyouikuteki Shidou! (教育的指導!)
Koi wo Game ni Shinaide! (恋をゲームにしないで!)
Hikou Jisshuu ~Learn to Fly~ (飛行実習~Learn to Fly~)
Houkago Romance (放課後_ロマンス)
Knee High Egoist (ニーハイ・エゴイスト)
Seinaru wktk no Hoshi (聖ナルwktkノ星)
Ethical ~Arigatou wo Tsutaetai~ (エシカル~ありがとうを伝えたい~)