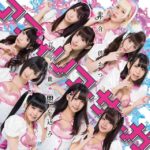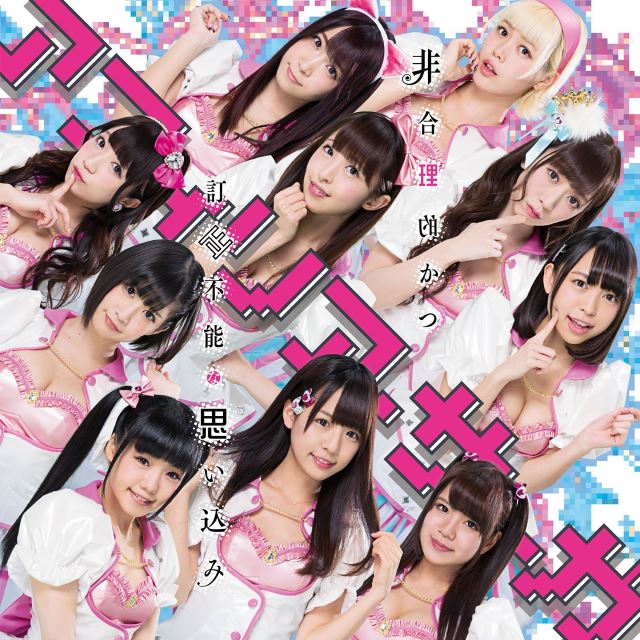 Afilia Saga will release their new single Higouriteki Katsu Teisei Funou na Omoikomi (非合理的かつ訂正不能な思い込み) on April 19.
This is the 19th single by the idol group.
Kohime Lit Pucci, Miku Doll Charlotte and Yukafin Doll will make their last appearance as Afilia Saga members. The three girls will graduate from the group on June 3.
The MV shows an very energetic and "sensual" side of the Afilia Saga, like their revealing outfits, they eat grapes together, share an ice cone and even draw on certain areas of their bodies.
The main song will be used as the opening theme for the game series CHAOS;CHILD Love chu☆chu!!.
The single will be sold in 9 editions: 4 editions A, B, C and D ; one limited edition (CD + DVD) ; a special edition (game) and 3 special "graduation" nominative editions for the three members who will leave the group.
Each CD will have a different tracklist.
Tracklist
Type A

Higouriteki Katsu Teisei Funou na Omoikomi (非合理的かつ訂正不能な思い込み)
Mirai Kara Kita Watashi (ミライからきた私)
Higouriteki Katsu Teisei Funou na Omoikomi (off vocal)
Mirai Kara Kita Watashi (off vocal)
Type B

Higouriteki Katsu Teisei Funou na Omoikomi (非合理的かつ訂正不能な思い込み)
Spring Faction (SPRInG FAcTiON)
Higouriteki Katsu Teisei Funou na Omoikomi (off vocal)
Spring Faction (off vocal)
Type C

Higouriteki Katsu Teisei Funou na Omoikomi (非合理的かつ訂正不能な思い込み)
Higouriteki Katsu Teisei Funou na Omoikomi (off vocal)
* (Enhanced : Higouriteki Katsu Teisei Funou na Omoikomi Music Clip (high quality mp4 data) / Artist photo / wallpaper / Music Clip off shot photo)
Type D

Higouriteki Katsu Teisei Funou na Omoikomi (非合理的かつ訂正不能な思い込み)
Higouriteki Katsu Teisei Funou na Omoikomi (off vocal)
* (Enhanced : self-taken photograph (Yukafin / Miku / Moye / Momoko / Kaori) / Moe Moe Voice (Yukafin / Miku / Moye / Momoko / Kaori) / Higouriteki Katsu Teisei Funou na Omoikomi (48 KHz 24 bit high resolution WAV))
Limited Edition

CD

Higouriteki Katsu Teisei Funou na Omoikomi (非合理的かつ訂正不能な思い込み)
Mirai Kara Kita Watashi (ミライからきた私)
Spring Faction
Afilia no Chikai (アフィリアの誓い)
Higouriteki Katsu Teisei Funou na Omoikomi (off vocal)
Mirai Kara Kita Watashi (off vocal)
Spring Faction (off vocal)
Afilia no Chikai (off vocal)

DVD

Higouriteki Katsu Teisei Funou na Omoikomi (Music Clip)
Higouriteki Katsu Teisei Funou na Omoikomi (Music Clip Making)
* (Enhanced Higori Teki Katsu Teisei Funou na Omoikomi Music Clip (high quality mp4 data) / artist photo / wallpaper / Music Clip off shot photo)
"CHAOS;CHILD" Collaborative Edition

CD

Higouriteki Katsu Teisei Funou na Omoikomi (非合理的かつ訂正不能な思い込み)
Higouriteki Katsu Teisei Funou na Omoikomi (GAME ver.)
[CHAOS;CHILD Love chu☆chu!!] Monologue Drama "BI NEMU wo Sasou Hatsumi Naki Koe Ritsu-" (『CHAOS;CHILD らぶchu☆chu!!』モノローグドラマ「微睡を誘うは罪なき声律-」)
Mirai Kara Kita Watashi (ミライからきた私)
Higouriteki Katsu Teisei Funo na Omoikomi (off vocal)
Mirai Kara Kita Watashi (off vocal)
* (Enhanced : "CHAOS; CHILD Love chu☆chu !!" OP Movie)
Music Video (PV)