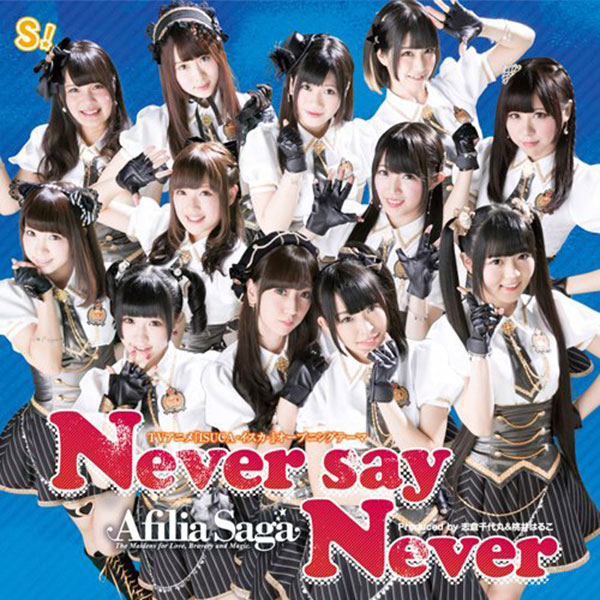 Afilia Saga's new single Never Say Never will be released on February 11.
This is the 14th single from Afilia Saga.
It is the opening theme song for the anime Isuca (イスカ).
Check out the MV.
Isuca is going to start airing on January 23 on Tokyo MX.
Kohime Lit Pucci dubs the voice of Kohinata Akane in the anime.
The members of Afilia Saga are wearing cute black and white outfits. The girls are running and jumping over hurdles on the music video.
The lyrics of Never Say Never were written by Ogawa Hinako and Tsujimura Yumiko. The music was composed by Konnie Aoki and ShinYMG. It was arranged by Macaroni☆.
The coupling song Megami-sama no Point Card was written and composed by Momoi Haruko.
The 3rd track Spark In My Heart ~Sekai ga Owaru Toshitemo~ was made by Yoffy.
5 versions are on sale.
Moreover, Afilia Saga will hold several release events from January 18. It includes handshake events and 2-shot photo sessions with the members of the idol group.
Tracklist
Limited Edition

CD

Never Say Never
Megami-sama no Point Card (女神さまのポイントカード)
Spark In My Heart ~Sekai ga Owaru Toshitemo~ (~世界が終わるとしても~)
Never Say Never (Off Vocal)
Megami-sama no Point Card (Off Vocal)
Spark In My Heart~世界が終わるとしても~ (Off Vocal)

DVD

Never Say Never (Music Clip)
Bonus Footage (特典映像)
 Type A

CD

Never Say Never
Megami-sama no Point Card
Type B

CD

Never Say Never
Spark In My Heart ~Sekai ga Owaru Toshitemo~
Type C

CD

Never Say Never
Megami-sama no Point Card
Spark In My Heart ~Sekai ga Owaru Toshitemo~
Never Say Never (Off Vocal)
Megami-sama no Point Card (Off Vocal)
Spark In My Heart ~Sekai ga Owaru Toshitemo~ (Off Vocal)
Collaboration Edition

CD

Never Say Never
Megami-sama no Point Card
Spark In My Heart ~Sekai ga Owaru Toshitemo~
Mini Drama (ミニドラマ)
Never Say Never (Off Vocal)
Megami-sama no Point Card (Off Vocal)
Spark In My Heart ~Sekai ga Owaru Toshitemo~ (Off Vocal)

DVD

Never Say Never (Music Clip)
TV Anime "Isuca" Special Movie (TV アニメ「ISUCA」スペシャルムービー)
Music Video (PV)