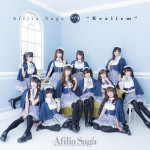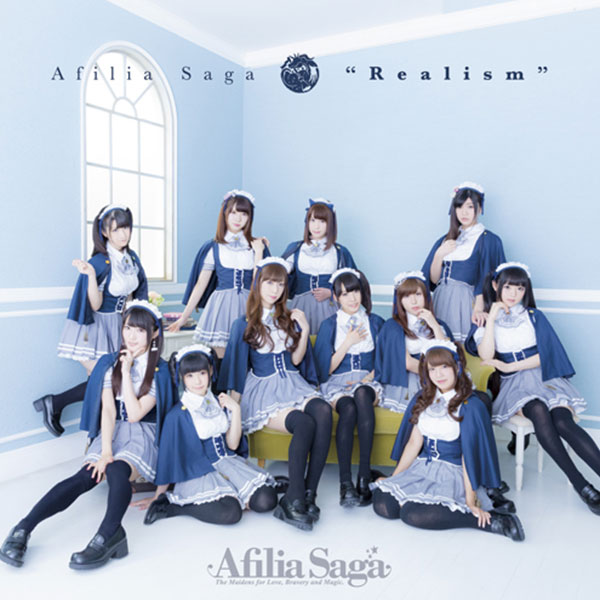 Afilia Saga's 3rd album Realism will be on sale on August 26.
The CD contains 15 songs including the latest singles of the idol group and a new one.
Check out the music video for Tenkou Girl (転校ガール).
This album is the first one by Afilia Saga for almost 2 years.
The lyrics of the new song Tenkou Girl were written by Shikura Chiyomaru. He also composed the music.
It was performed for the first time during Afilia Saga one-man live Mugen Jikuu no Mahou Jutsuu (夢幻時空の魔法術) on July 18.
The Deluxe version comes with 2 CDs and 2 DVDs. It includes footage from this live performance.
Another new song, titled Chiisana Mahou ~Small Magic~ (ちいさなまほう), was written and composed by Momoi Haruko.
For the first time, there is an analog record edition featuring 10 songs.
Furthermore, this is the last album of Afilia Saga with the current line-up because Raymee Heavenly announced her graduation, whereas Momoko Little Berry and Moe Mieray have just joined the idol group as new members.
Tracklist
CD 1

Venus and the Seven Blue Seas (ヴィーナスと蒼き七つの海)
Spark In My Heart ~Sekai ga Owaru to Shitemo~ (~界が終わるとしても~)
S・M・L☆
Mirai Botan (ミライボタン)
Magical Express Journey (マジカル☆エクスプレス☆ジャーニー)
Neptune Sagashite(ネプテューヌ☆サガして)
BitterSweet
Japonesque×Romanesque (ジャポネスク×ロマネスク)
Sepia (セピア)
Zero
Never Say Never
Megami-sama no Point Card (女神さまのポイントカード)
Next Stage!
Tenkou Girl (転校ガール)
Hatsukoi Stripe (ハツコイ///ストライプ)
CD 2 (Deluxe)

Chiisana Mahou (ちいさなまほう) ~Small Magic~
Ito (糸)
Yume no Hikari ~ Venus and the Seven Blue Seas (夢ノヒカリ〜ヴィーナスと蒼き七つの海) (Live Tour Tokyo Version)
Tenkou Girl (Off Vocal)
Chiisana Mahou ~Small Magic~ (Off Vocal)
飛行実習 Off Vocal)
恋のWizard百年戦争 (Off Vocal)
DVD 1 (Limited & Deluxe)

Neptune Sagashite (Music Clip)
S☆M☆L (Music Clip)
Magical Express Journey (Music Clip)
Japonesque×Romanesque (Music Clip)
Tenkou Girl (Music Clip)
Tenkou Girl (Off Shot MV)
DVD 2 (Deluxe)

2015/07/18 One-man Live "Mugen Jikuu no Mahou Jutsuu" Digest (ワンマンライブ「夢幻時空の魔法術」記録映像ダイジェスト)
Analog Record

A-side

Tenkou Girl
Next Stage!
S・M・L☆
Magical Express Journey
Venus and the Seven Blue Seas

B-side

Japonesque × Romanesque
Sepia
Zero
Never Say Never
Neptune Sagashite
Music Video (PV)