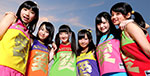 AiCune is a Japanese idol group formed in 2013.
It currently consists of 3 members.
The girls are from Ehime prefecture.
AiCune is a sister group of Hime Kyun Fruit Can, nanoCUNE, and FruitPochette.
Biography / History
AiCune were formed in September 2013. 14 girls passed the audition.
Yoshimatsu Nene and Hono Hana announced their withdrawal in October 2013.
The girls officially debuted in November 2013.
Former nanoCUNE member Murata Akane joined the idol group in late November 2013.
Uematsu Sana, Okada Nanami and Nishioka Kana graduated together in April 2014.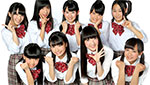 AiCune's 1st mini-album Mizuiro Graffiti (水色グラフィティ) was released in July 2014.
Okada Risa, Fukuhara Uta and Murakami Sora left simultaneously the idol group in October 2014.
Murata Akane announced her graduation in February 2015.
Kira Yumika was recruited as a kenkyuusei (trainee) in May 2015.
AiCune's 1st single Nagisa no Sympathy (渚のシンパシー) went on sale in August 2015.
Kagayama Risa, Kinoshita Asumi and Sato Hitomi graduated in March 2016.
Profile
AiCune (アイキューン)
Years active : 2013 – present
Label : –
Agency : Mad Magazine Records
Members
Kinoshita Kirari (木下きらり)
Hoshimoto Asaki (橋本真咲)
Kira Yumika (良有美香)
Former members
Yoshimatsu Nene (吉松音々)
Hono Hana (ほの花)
Ono Haruka (大野遥)
Uematsu Sana (植松紗奈)
Okada Nanami (岡田七海)
Nishioka Kana (西岡華奈)
Okada Risa (岡田梨里)
Fukuhara Uta (福原詩)
Murakami Sora (村上空)
Murata Akane (村田和佳音)
Kagayama Risa (加賀山梨紗)
Kinoshita Asumi (木下あすみ)
Sato Hitomi (佐藤瞳)
Discography
Singles
26/08/2015 : Nagisa no Sympathy (渚のシンパシー)
Albums
21/07/2014 : Mizuiro Graffiti (水色グラフィティ)
Links
News