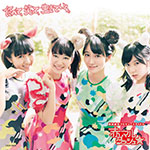 Akamaru Dash new single Tabete, Waratte, Ikite Iku (食べて、笑って、生きていく。) will be released on October 22.
This is the major debut single from Akamaru Dash under the label Nippon Columbia.
The MV has been unveiled.
It is the CM song for the Maruchan ramen noodles commercial featuring the members of Akamaru Dash.
The idol group is produced by Takeda Tetsuya. He works in collaboration with songwriter Hyadain and choreographer Papaya Suzuki on this project.
4 editions are available. Each CD contains 4 songs. Only the last song is different depending on the version.
Tracklist
Red

Tabete, Waratte, Ikite Iku (食べて、笑って、生きていく。)
Akamaru Kyuujoushou Dash!!!! (赤マル急上昇ダッシュ!!!!)
Uwasa no Japanese Boy (うわさのジャパニーズボーイ)
4 colors
Green

Tabete, Waratte, Ikite Iku
Akamaru Kyuujoushou Dash!!!!
Uwasa no Japanese Boy
Beside you
Black

Tabete, Waratte, Ikite Iku
Akamaru Kyuujoushou Dash!!!!
Uwasa no Japanese Boy
5 Minutes Ruler
White

Tabete, Waratte, Ikite Iku
Akamaru Kyuujoushou Dash!!!!
Uwasa no Japanese Boy
Sticky Heart
Music Video (PV)