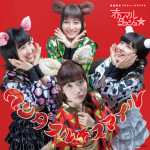 Akamaru Dash☆ new single Wonderful Smile (ワンダフル☆スマイル) will be released on April 1st.
This is the 2nd single by Akamaru Dash☆.
Check out the MV. The dance practice videos have also been revealed.
In the music video, the members of the idol group participate in a quiz and challenges like on a Japanese TV variety show.
Wonderful Smile (ワンダフル☆スマイル) is the ending theme song for Pop Parade program on tvk in March.
4 editions are available, that is to say one per member of the idol unit. Each one is associated to the color of a girl.
Each CD contains 4 songs. Only the 4th track is different depending on the version.
Akamaru Dash☆ is produced by singer and actor Takeda Tetsuya.
Tracklist
CD

Wonderful Smile (ワンダフル☆スマイル)
Hit Parade Udon Soba (ヒッパレ☆うどんそば)
Akai Mari no You ni (赤い鞠のように)

UDON☆SHAKALAKA (Red ver.)
Heartbeat (Green ver.)
Chronos (クロノス) (Black ver.)
Ashita mo Kitto Kyujoushou (明日もきっと急上昇☆) (White ver.)
Music Video (PV)