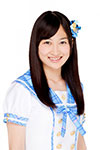 Akazawa Hono announced her graduation from NMB48. She left the idol group on April 16.
Akazawa Hono explained on her blog that she took this decision because of her poor physical health.
She was a member of NMB48 Team BII.
Akazawa Hono is a 3rd generation member of NMB48. She joined the idol group from Osaka as a Kenkyuusei in 2012. She was quickly promoted to Team BII in October 2012.