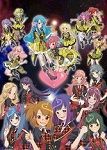 AKB0048 Vol.4 DVD and blu-ray will be released on September 26.
This is the 4th release of AKB0048 anime TV series based on the popular AKB48 idol group. It was produced by Satelight Studio, directed Kawamori Shoji (Macross series) and characters designed by Ebata Risa (Macross F).
The DVD and blu-ray versions include episodes 8 to 10, a booklet (16 pages), bonus video footage and audio commentary.
DVD & Blu-ray
Tracklisting

AKB0048 Stage 8 : Sono Na Ha, Dare no mono? (AKB0048 Stage 8 その名は、誰のもの?)
AKB0048 Stage 9 : Kimochi Relation (AKB0048 Stage 9 キモチリレーション)
AKB0048 Stage 10 : Namima no Kiseki (AKB0048 Stage 10 波間のキセキ)