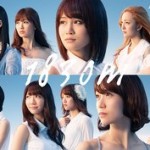 AKB48's 2nd studio album 1830m will be released on August 15.
The album includes 2 CD. CD1 contains tracks from last singles and songs previously only performed on stages.  CD2 contains 16 new songs and Sakura no Hanabiratachi solo version by Maeda Atsuko.
It comes with a DVD featuring choregraphy videos, a 48-page photobook and a random photo of a member.
The title 1830m refers to the distance between AKB48 Theater and Tokyo Dome where they will hold concerts from August 24 to August 26.
Tracklist
CD 1

First Rabbit (ファースト・ラビット)
Ougon Centre (黄金センター)
Miniskirt no Yousei (ミニスカートの妖精)
Ue kara Mariko (上からマリコ)
Anti (アンチ)
Lemon no Toshigoro (檸檬の年頃)
Renai Sousenkyo (恋愛総選挙)
Yasai Uranai (野菜占い)
Everyday, Katyusha (Everyday、カチューシャ)
Hashire! Penguin (走れ!ペンギン)
Romance Kakurenbo (ロマンスかくれんぼ)
Tsubomitachi (蕾たち)
Jung ya Freud no Baai (ユングやフロイトの場合)
Flying Get (フライングゲット)
Kaze wa Fuiteiru (風は吹いている)
Sakura no Ki ni Narou (桜の木になろう)
Give Me Five!
CD 2

Hate (Team A)
Plastic no Kuchibiru (プラスティックの唇) (Shinoda Mariko)
Omoide no Otondo (思い出のほとんど) (Maeda Atsuko, Takahashi Minami)
Iede no Yoru (Team K)
Scandalous ni Ikou (スキャンダラスに行こう) (Kojima Haruna, Oshima Yuko)
Nokan (ノーカン) (Team B)
Avocado Jane~shi (アボガドじゃね〜し・・・) (Watanabe Mayu, Sashihara Rino)
Chokkaku Sunshine (直角 Sunshine) (Team 4)
Bokutachi wa Ima Hanashiaubekinanda (僕たちは今話し合うべきなんだ) (Itano Tomomi, Kashiwagi Yuki)
Sakuranbo to Kodoku (さくらんぼと孤独) (AKB48 Kenkyuusei)
Daijina Jikan (大事な時間) (Kojima Haruna, Shinoda Mariko, Takahashi Minami, Maeda Atsuko, Itano Tomomi, Oshima Yuko, Kashiwagi Yuki, Watanabe Mayu)
Itsuka Mita Umi no Soko (いつか見た海の底) (Up-and-coming girls : Watanabe Mayu, Iriyama Anna, Kato Reina, Kawaei Rina, Shimazaki Haruka, Oshima Ryoka, Kizaki Yuria, Matsui Jurina, Yagami Kumi, Kimoto Kanon, Yamada Nana, Watanabe Miyuki, Jo Eriko, Kodama Haruka, Sugamoto Yuuko, Miyawaki Sakura)
Gu Gu Onaka (ぐーぐーおなか) (Iwasa Misaki, Maeda Atsuko, Maeda Ami, Nito Moeno, Fujie Reina, Ishida Haruka, Komori Mika, Sato Amina, Sato Sumire)
Yasashisa no Chizu (やさしさの地図) (Shinoda Mariko, Takahashi Minami, Yokoyama Yui, Kashiwagi Yuki, Iriyama Anna, Kato Reina, Shimazaki Haruka, Kizaki Yuria, Jo Eriko, Kodama Haruka)
Itterasshai (行ってらっしゃい) (Kojima Haruna, Shinoda Mariko, Takajo Aki, Takahashi Minami, Maeda Atsuko, Itano Tomomi, Oshima Yuko, Minegishi Minami, Yokoyama Yui, Kashiwagi Yuki, Watanabe Mayu, Sashihara Rino)
Aozora wo Sabishikunai ka ? (青空よ寂しくないか?) (AKB48 + SKE48 + NMB48 + HK48)
Sakura no Hanabiratachi (桜の花びらたち) (Maeda Atsuko)
DVD

Everyday, Katyusha (Everyday、カチューシャ) (2:30 Ver.)
Flying Get (フライングゲット) (2:30 Ver.)
Kaze wa Fuiteiru (風は吹いている) (2:30 Ver.)
Ue kara Mariko (上からマリコ) (2:30 Ver.)