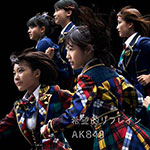 AKB48's 38th single Kibouteki Refrain (希望的リフレイン) will be released on November 26.
The list of the Senbatsu members has been announced on September 17 during the AKB48 Janken Tournament 2014 (AKB48グループ じゃんけん大会 2014) at Nippon Budokan, Tokyo.
The MV, the tracklist and the covers have been unveiled.
The centers are Watanabe Mayu and Miyawaki Sakura.
Former AKB48 members Maeda Atsuko, Oshima Yuko, Itano Tomomi and Shinoda Mariko are making an appearance in the music video.
Kojima Haruna and Ikoma Rina formed the duo Kojizaka46. Their song Kaze no Rasen (風の螺旋) is available on Type D.
Senbatsu
AKB48

Team A: Shimazaki Haruka, Kojima Haruna, Takahashi Minami, Kawaei Rina, Iriyama Anna, Muto Tomu
Team K: Yokoyama Yui, Kojima Mako, Tano Yuuka
Team B: Watanabe Mayu, Kashiwagi Yuki, Takahashi Juri, Owada Nana, Oshima Ryoka, Kawamoto Saya
Team 4: Minegishi Minami, Mukaichi Mion, Kato Rena, Kizaki Yuria
Team 8: Nakano Ikumi
SKE48

Team S: Miyazawa Sae, Matsui Jurina
Team E: Matsui Rena, Suda Akari
NMB48

Team N: Yamamoto Sayaka
Team M: Shiroma Miru
Team BII: Watanabe Miyuki
HKT48

Team H: Sashihara Rino, Kodama Haruka
Team KIV: Sakuratan, Moriyasu Madoka
The limited editions come with a ticket to participate in a handshake event withe the members of the idol group.
Tracklist
Type A

CD

Kibouteki Refrain (希望的リフレイン)
Ima, Happy (今、Happy) (Bara Gumi)
Juujun na Slave (従順なSlave) (Team A)
Kibouteki Refrain (off vocal)
Ima, Happy (off vocal)
Juujun na Slave (off vocal)

DVD

Kibouteki Refrain (Music Video)
Kibouteki Refrain (Live ver.)
Ima, Happy (Music Video)
AKB48 Group Ura Janken Taikai 2014 Saijaku Joou Ketteisen Part 1 (AKB48グループ 裏じゃんけん大会2014 最弱女王決定戦 Part1)
Type B

CD

Kibouteki Refrain (希望的リフレイン)
Ambulance (Yuri Gumi)
Hajimete no Drive (初めてのドライブ) (Team K)
Kibouteki Refrain (off vocal)
Ambulance (off vocal)
Juujun na Slave (off vocal)

DVD

Kibouteki Refrain (Music Video)
Kibouteki Refrain (Live ver.)
Ambulance (Music Video)
AKB48 Group Ura Janken Taikai 2014 Saijaku Joou Ketteisen Part 2 (AKB48グループ 裏じゃんけん大会2014 最弱女王決定戦 Part2)
Type C

CD

Kibouteki Refrain (希望的リフレイン)
Utaitai (歌いたい) (Cattleya Gumi)
Loneliness Club (ロンリネスクラブ) (Team B)
Kibouteki Refrain (off vocal)
Utaitai (off vocal)
Loneliness Club (off vocal)

DVD

Kibouteki Refrain (Music Video)
Kibouteki Refrain (Live ver.)
Utaitai (Music Video)
Team 8 Hajimete no Doki Doki One-Shot Lip Shuu (Team 8は・じ・め・て・のドキドキワンショットリップ集!)
Type D

CD

Kibouteki Refrain (希望的リフレイン)
Seifuku no Hane (制服の羽根) (Team 8)
Me wo Aketa Mama no First Kiss (目を開けたままのファーストキス) (Team 4)
Kaze no Rasen (風の螺旋) (Kojizaka46)
Kibouteki Refrain (off vocal)
Seifuku no Hane (off vocal)
Me wo Aketa Mama no First Kiss (off vocal)
Kaze no Rasen (off vocal)

DVD

Kibouteki Refrain (Music Video)
Kibouteki Refrain (Live ver.)
Seifuku no Hane (Music Video)
Kaze no Rasen (Music Video)
Theater Edition

CD

Kibouteki Refrain
Ima, Happy (Bara Gumi)
Reborn (Team Surprise)
Kibouteki Refrain (off vocal)
Ima, Happy (off vocal)
Juujun na Slave (off vocal)
Music Video (PV)