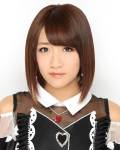 AKB48's 42nd single Kuchibiru Be my Baby will be released on December 9.
In addition, Takahashi Minami is going to produce a special stage at AKB48 Theater. Further details on this live event will be revealed later.
It was also announced that Fujita Nana will make her solo debut on December 23.
This will be the last appearance of Takahashi Minami as a member of AKB48 before her graduation after 10 years of activity with the idol group.
Takahashi Minami serves as the center on this single. The other Senbatsu members are Iriyama Anna, Kojima Haruna, Shimazaki Haruka, Takahashi Minami, Yokoyama Yui, Minegishi Minami, Kato Rena, Kizaki Yuria, Watanabe Mayu, Kashiwagi Yuki, Matsui Jurina, Yamamoto Sayaka, Sashihara Rino, Miyawaki Sakura, Kitahara Rie, Miyazawa Sae.
The various CD versions include 4 new songs and a bonus DVD.
The limited editions come with a ticket for a handshake event with the members of AKB48.
Furthermore, Fujita Nana's solo debut single will go on sale on December 23. The other members ranked in the top 16 at the AKB48 Janken Tournament 2015 will perform the coupling song.
Tracklist
CD

Kuchibiru ni Be my Baby (唇にBe My Baby)
365 Nichi no Kami Hikouki (365日の紙飛行機)
タイトル未定
タイトル未定