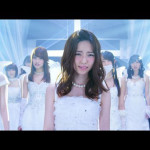 AKB48's 40th single Bokutachi wa Tatakawanai (僕たちは戦わない) will be released on May 20.
The track listing and the Senbatsu members selected from AKB48, SKE48, NMB48, HKT48, NGT48 and Nogizaka46 have been announced. Shimazaki Haruka got the center position.
The short version of the MV has been unveiled. The girls fight against enemies in a post apocalyptic future world. They also appear as angels with white wings.
The 32 Senbatsu members are Owada Nana, Kawaei Rina, Kojima Haruna, Shimazaki Haruka, Takahashi Minami, Yokoyama Yui, Tano Yuka, Minegishi Minami, Mukaichi Mion, Muto Tomu, Oshima Ryoka, Kato Rena, Kizaki Yuria, Watanabe Mayu, Okada Nana, Kawamoto Saya, Kojima Mako, Takahashi Juri, Kashiwagi Yuki,Nakano Ikumi, Sakaguchi Nagisa, Matsui Jurina, Kitagawa Ryoha, Suda Akari, Matsui Rena, Yamamoto Sayaka, Watanabe Miyuki, Sashihara Rino, Kodama Haruka, Miyawaki Sakura, Miyazawa Sae and Ikoma Rina.
The coupling song Kafka to Dendenmu Chu! (カフカとでんでんむChu!) is the first song by AKB48's new sub-unit Dendenmu Chu! consisting of Owada Nana, Mukaichi Mion, Murayama Yuiri, Kawamoto Saya, Taniguchi Megu, Tanaka Miku and Yabuki Nako.
Kimi no Dainisho (君の第二章) is Kawaei Rina's graduation song.
The music video was directed by Otomo Keichi.
The limited editions comes with a ticket for a handshake event with the members of the idol group.
Furthermore, the AKB48 Senbatsu General Election 2015 (第7回AKB48選抜総選挙2015) will be held on June 6 at Fukuoka Dome.
Tracklist
Type A

CD

Bokutachi wa Tatakawanai (僕たちは戦わない)
Summer Side / Selection 16
"Danshi" wa Kenkyuu Taishou ("ダンシ"は研究対象 てんとうむChu) / Tentoumu Chu!
Bokutachi wa Tatakawanai (Off vocal)
Summer Side (Off vocal)
"Danshi" wa Kenkyuu Taishou (Off vocal)

DVD
Type B

CD

Bokutachi wa Tatakawanai (僕たちは戦わない)
Summer Side / Selection 16
Kafka to Dendenmu Chu! (カフカとでんでんむChu!) / Dendenmu Chu!
Bokutachi wa Tatakawanai (Off vocal)
Summer Side (Off vocal)
Kafka to Dendenmu Chu! (Off vocal)

DVD
Type C

CD

Bokutachi wa Tatakawanai (僕たちは戦わない)
Summer Side / Selection 16
Yogoreteiru Shinjutsu (汚れている真実) / Team 8 Senbatsu
Bokutachi wa Tatakawanai (Off vocal)
Summer Side (Off vocal)
Yogoreteiru Shinjutsu (Off vocal)

DVD
Type D

CD

Bokutachi wa Tatakawanai (僕たちは戦わない)
Barebare Bushi (バレバレ節) / Wonda Senbatsu
Kimi no Dainisho (君の第二章)
Bokutachi wa Tatakawanai (Off vocal)
Barebare Bushi (Off vocal)
Kimi no Dainisho (Off vocal)

DVD
Music Video (PV)