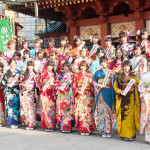 32 members from AKB48, SKE48, NMB48, HKT48 and NGT48 held their coming-of-age ceremony (成人式, seijin shiki) on January 11 at Kanda Shrine in Tokyo.
Kizaki Yuria, Iriyama Anna, Tani Marika, Anai Chihiro, Tanigawa Airi and Nishigata Marina were part of the girls who became adults. They were all wearing pretty furisode.
Check out some photos of the event.
The coming-of-age ceremony is reserved to those who reached 20 years old, which is the age of majority in Japan, over the past year or at the beginning of the current year.
The 32 members of the 48 family idol groups who participated are :
AKB48 : Iriyama Anna, Kizaki Yuria, Izuta Rina, Takeuchi Miyu, Maeda Ami, Abe Maria, Nakanishi Chiyori, Uchiyama Natsuki, Natori Wakana, Shinozaka Ayana, Sasaki Yukari, Hamamatsu Riona, Yamamoto Ai
SKE48 : Tani Marika, Koishi Kumiko, Tsuzuki Rika, Uchiyama Mikoto, Yamashita Yukari, Takahata Yuki
NMB48 : Kawakami Rena, Yamao Rina, Mita Mao, Tanigawa Airi, Kusaka Konomi, Okita Ayaka, Azuma Yuki, Matsumura Megumi, Morita Ayaka
HKT48 ; Anai Chihiro
NGT48 : Nishigata Marina, Otaki Yuria, Yamaguchi Maho