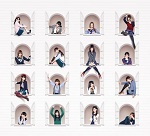 AKB48's 29th single Eien Pressure (永遠プレッシャー) will be released on December 5.
The title song is performed by the 16 members selected at the 2012 Janken Tournament. Shimazaki Haruka had won the center position.
Some B-side tracks are performed by SKE48, NMB48, HKT48, or OKL48 depending on the version.
Each single includes a bonus DVD featuring music videos and a documentary on the 29th Single Senbatsu Janken Tournament.
Type A
CD

Eien Pressure (永遠プレッシャー)
Totteoki Christmas (とっておきクリスマス)
Tsuyogari Tokei (強がり時計) (SKE48)
Eien Pressure (永遠プレッシャー) (Instrumental)
Totteoki Christmas (とっておきクリスマス) (Instrumental)
Tsuyogari Tokei (強がり時計) (SKE48) (Instrumental)
DVD

Eien Pressure (永遠プレッシャー) (Music Video)
Totteoki Christmas (とっておきクリスマス) (Music Video)
Tsuyogari Tokei (強がり時計) (SKE48) (Music Video)
Team B Oshi (チームB推し) (Music Video)
29th Single Senbatsu Janken Tournament Documentary (29thシングル選抜じゃんけん大会ドキュメント) (Part 1)
Type B
CD

Eien Pressure (永遠プレッシャー)
Totteoki Christmas (とっておきクリスマス)
Ha! (NMB48)
Eien Pressure (永遠プレッシャー) (Instrumental)
Totteoki Christmas (とっておきクリスマス) (Instrumental)
Ha! (NMB48) (Instrumental)
DVD

Eien Pressure (永遠プレッシャー) (Music Video)
Totteoki Christmas (とっておきクリスマス) (Music Video)
Ha! (NMB48) (Music Video)
First Rabbit (ファースト・ラビット) (Music Video)
29th Single Senbatsu Janken Tournament Documentary (29thシングル選抜じゃんけん大会ドキュメント) (Part 2)
Type C
CD

Eien Pressure (永遠プレッシャー)
Totteoki Christmas (とっておきクリスマス)
Hatsukoi Butterfly (初恋バタフライ) (HKT48)
Eien Pressure (永遠プレッシャー) (Instrumental)
Totteoki Christmas (とっておきクリスマス) (Instrumental)
Hatsukoi Butterfly (初恋バタフライ) (HKT48) (Instrumental)
DVD

Eien Pressure (永遠プレッシャー) (Music Video)
Totteoki Christmas (とっておきクリスマス) (Music Video)
Hatsukoi Butterfly (初恋バタフライ) (HKT48) (Music Video)
Sakura no Hanabiratachi ~Maeda Atsuko Solo Ver.~ (桜の花びら ~前田敦子 solo ver.~) (Music Video)
29th Single Senbatsu Janken Tournament Documentary (29thシングル選抜じゃんけん大会ドキュメント) (Part 3)
Type D
CD

Eien Pressure (永遠プレッシャー)
Totteoki Christmas (とっておきクリスマス)
Eien Yori Tsuzuku you ni (永遠より続くように) (OKL48)
Eien Pressure (永遠プレッシャー) (Instrumental)
Totteoki Christmas (とっておきクリスマス) (Instrumental)
Eien Yori Tsuzuku you ni (永遠より続くように) (OKL48) (Instrumental)
DVD

Eien Pressure (永遠プレッシャー) (Music Video)
Totteoki Christmas (とっておきクリスマス) (Music Video)
?? (Music Video)
AKB48 – Eien Pressure (PV)