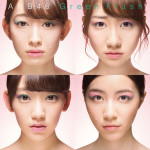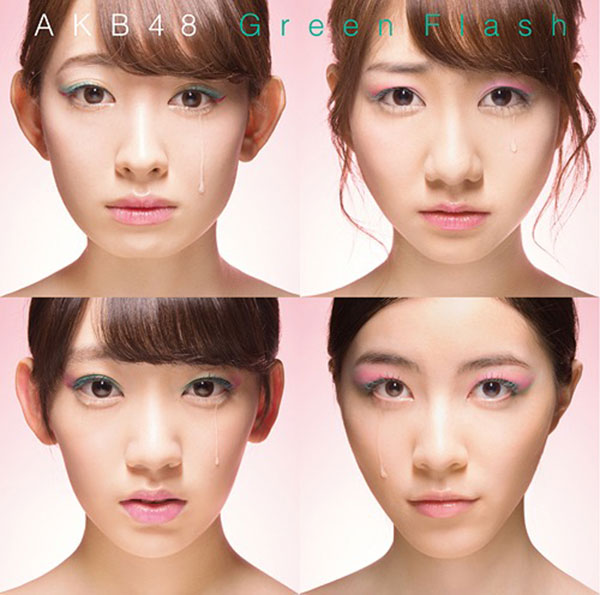 AKB48's 39th single Green Flash will be released on March 4.
It includes songs by AKB48, SKE48, NMB48 and HKT48.
The music videos have been unveiled.
The centers are Kashiwagi Yuki and Kojima Haruna.
The Senbatsu members are :
AKB48

Team A : Kojima Haruna, Takahashi Minami, Shimazaki Haruka, Kawaei Rina, Iriyama Anna
Team K : Yokoyama Yui, Kojima Mako
Team B : Kashiwagi Yuki, Watanabe Mayu
Team 4 : Kizaki Yuria

SKE48

Team S : Matsui Jurina
Team E : Matsui Rena

NMB48
HKT48

Team H : Sashihara Rino
Team KIV: Miyawaki Sakura

Nogizaka46
The coupling songs Majisuka Fight and Yankee Rock are respectively the opening and the ending themes for the drama Majisuka Gakuen 4 starring the members of AKB48.
Hakimono to Kasa no Monogatari was released as a digital single on February 5. The song is used for NHK's show Minna no Uta in February and in March.
The lyrics of all songs were written by producer Akimoto Yasushi.
5 versions are available. The limited editions comes with a ticket for a handshake event with the members of the idol group.
Tracklist
Type A

CD

Green Flash
Majisuka Fight (マジすかFight)
Haru no Hikari Chikazuita Natsu (春の光 近づいた夏) (AKB48 Senbatsu)
Green Flash (Instrumental)
Majisuka Fight (Instrumental)
Haru no Hikari Chikazuita Natsu (Instrumental)

DVD

Green Flash (Music Video)
Majisuka Fight (Music Video)
Haru no Hikari Chikazuita Natsu (Music Video)
Type S

CD

Green Flash
Yankee Rock (ヤンキーロック)
Sekai ga Naiteru Nara (世界が泣いてるなら) (SKE48 Senbatsu)
Green Flash (Instrumental)
Yankee Rock (Instrumental)
Sekai ga Naiteru Nara(Instrumental)

DVD

Green Flash (Music Video)
Yankee Rock (Music Video)
Sekai ga Naiteru Nara (Music Video)
Type N

CD

Green Flash
Hakimono to Kasa no Monogatari (履物と傘の物語)
Punkish (パンキッシュ ) (NMB48 Senbatsu)
Green Flash (Instrumental)
Hakimono to Kasa no Monogatari (Instrumental)
Punkish (Instrumental)

DVD

Green Flash (Music Video)
Hakimono to Kasa no Monogatari (Music Video)
Punkish (Music Video)
Type H

CD

Green Flash
Aisatsu kara Hajimeyou (挨拶から始めよう)
Otona Ressha (大人列車) (HKT48 Senbatsu)
Green Flash (Instrumental)
Aisatsu kara Hajimeyou (Instrumental)
Otona Ressha (Instrumental)

DVD

Green Flash (Music Video)
Aisatsu kara Hajimeyou (Music Video)
Otona Ressha (Music Video)
Theater Edition

CD

Green Flash
Hakimono to Kasa no Monogatari (マジすかFight)
Hatsukoi no Oshibe (初恋のおしべ)
Green Flash (Instrumental)
Hakimono to Kasa no Monogatari (Instrumental)
Hatsukoi no Oshibe (Instrumental)

DVD

Green Flash (Music Video)
Hakimono to Kasa no Monogatari (Music Video)
Hatsukoi no Oshibe (Music Video)
Music Videos (PV)