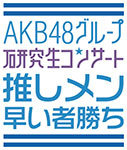 AKB48 Group Kenkyuusei Concert ~Oshimen Hayaimonogachi~ (AKB48グループ研究生コンサート~推しメン早い者勝ち~) will be released on DVD and Blu-ray on November 9.
The concert was held on June 5, 2013 at Nippon Budokan in Tokyo.
The Kenkyuusei members of AKB48, SKE48, NMB48, and HKT48 participated in the live performance.
The DVD and the Blu-ray box include 4 discs, a 24-page booklet, and 3 photos randomly selected.
Setlist
overture
Shonichi (初日)
Chance no Junban (チャンスの順番)
Kimi no Koto ga Suki Dakara (君のことが好きだから)
Aitakatta (会いたかった)
Nagisa no Cherry (渚のCherry)
First Love
Kuroi Tenshi (黒い天使)
7ji 12fun no Hatsukoi (7時12分の初恋)
Glass no I Love You (ガラスの I Love You)
Ame no Doubutsuen (雨の動物園)
Heart Gata Virus (ハート型ウイルス)
Tonari no Banana (となりのバナナ)
Pajama Drive (パジャマドライブ)
Tenshi no Shippo (天使のしっぽ)
Wagamama Collection (わがままコレクション)
Bird
End Roll (エンドロール)
Skirt, Hirari (スカート、ひらり)
Enjou Rousen (炎上路線)
Oh My God! (オーマイガー!)
Suki! Suki! Skip! (スキ!スキ!スキップ!)
1! 2! 3! 4! Yoroshiku! (1! 2! 3! 4! ヨロシク!)
Oogoe Diamond (大声ダイヤモンド)
Theater no Megami (シアターの女神)
Banzai Venus (バンザイVenus)
Seishun no Lap Time (青春のラップタイム)
Sayonara Crawl (さよならクロール)
Tenohira ga Kataru Koto (掌が語ること)
– Encore –
Love Shugyou (Love修行)
First Rabbit (ファースト・ラビット)
Let's Go Kenkyuusei! (レッツゴー研究生!)