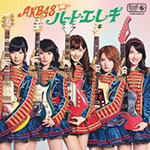 AKB48's 33rd single Heart Ereki (ハート・エレキ  ; Heart Electric) will be released on October 30.
4 editions are available, one for each team of AKB48.
Kojima Haruna has been chosen to be the center on this single.
A special nickname has been given to each senbatsu member for the title song.
The CDs contain 3 songs. The coupling track is different for each version. They come with a DVD featuring the music videos and bonus footage. They also include a photo randomly selected from 50 kinds.
Senbatsu Members
AKB48

Team A : Iriyama Anna (Veronica), Kawaei Rina (Kawaei), Takahashi Minami (Linda), Yokoyama Yui (Mary), Watanabe Mayu (Elizabeth)
Team K: Oshima Yuko (Lucy)
Team B : Kashiwagi Yuki (Catherine), Kojima Haruna (Center; Michelle), Shimazaki Haruka (Angelina)
Team 4 : Minegishi Minami (Barbara)

SKE48

Team S : Matsui Jurina (Caroline)
Team E : Matsui Rena (Sandy)

NMB48

Team N : Yamamoto Sayaka (Rosanna), Watanabe Miyuki (Josephine)

HKT48

Team H : Ota Aika (Margaret), Sashihara Rino (Laura)
Type A
CD

Heart Ereki (ハート・エレキ)
Kaisoku to Doutaishiryoku (快速と動体視力) (Under Girls)
Kiss Made Countdown (キスまでカウントダウン) (Team A)
Heart Ereki (ハート・エレキ) (off vocal ver.)
Kaisoku to Doutaishiryoku (快速と動体視力) (Instrumental)
Kiss Made Countdown (キスまでカウントダウン) (Instrumental)
DVD

Heart Ereki (ハート・エレキ) (Music Video)
Heart Ereki (ハート・エレキ) (Music Video -Dance ver.-)
Kaisoku to Doutaishiryoku (快速と動体視力) (Music Video)
Kiss Made Countdown (キスまでカウントダウン) (Music Video)
Type K
CD

Heart Ereki (ハート・エレキ)
Kaisoku to Doutaishiryoku (快速と動体視力) (Under Girls)
Sasameyuki Regret (細雪リグレット) (Team K)
Heart Ereki (ハート・エレキ) (off vocal ver.)
Kaisoku to Doutaishiryoku (快速と動体視力) (Instrumental)
Sasameyuki Regret (細雪リグレット) (Instrumental)
DVD

Heart Electric (ハート・エレキ) (Music Video)
Heart Electric (ハート・エレキ) (Music Video -Dance ver.-)
Kaisoku to Doutaishiryoku (快速と動体視力) (Music Video)
Sasameyuki Regret (細雪リグレット) (Music Video)
Akimoto Sayaka Graduation Documentary "Tsuyosa to Yowasa no Ma de" (秋元才加 卒業ドキュメント「強さと弱さの間で」)
Type B
CD

Heart Ereki (ハート・エレキ)
Kimi Dake ni Chu! Chu! Chu! (君だけにChu! Chu! Chu!) (Tentoumu Chu!)
Tiny T-shirt (Team B)
Heart Ereki (ハート・エレキ) (off vocal ver.)
Kimi Dake ni Chu! Chu! Chu! (君だけにChu! Chu! Chu!)  (Instrumental)
Tiny T-shirt (Instrumental)
DVD

Heart Ereki (ハート・エレキ) (Music Video)
Heart Ereki (ハート・エレキ) (Music Video -Dance ver.-)
Kimi Dake ni Chu! Chu! Chu! (君だけにChu! Chu! Chu!)  (Music Video)
Tiny T-shirt (Music Video)
Tentoumu Chu! Documentary (てんとうむChu! ドキュメント)
Type 4
CD

Heart Ereki (ハート・エレキ)
Kaisoku to Doutaishiryoku (快速と動体視力) (Under Girls)
Seijun Philosophy (清純フィロソフィー) (Team 4)
Heart Ereki (ハート・エレキ) (off vocal ver.)
Kaisoku to Doutaishiryoku (快速と動体視力) (Instrumental)
Seijun Philosophy (清純フィロソフィー) (Instrumental)
DVD

Heart Ereki (ハート・エレキ) (Music Video)
Heart Ereki (ハート・エレキ) (Music Video -Dance ver.-)
Kaisoku to Doutaishiryoku (快速と動体視力) (Music Video)
Seijun Philosophy (清純フィロソフィー) (Music Video)
Team 4 Kenkyuusei Audition ~Sotsugyou wo Mae ni Tsutaetai Omoi ga Aru~ (チーム4・研究生オーディション ~卒業を前に伝えたい想いがある~)