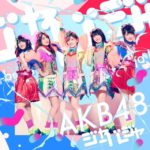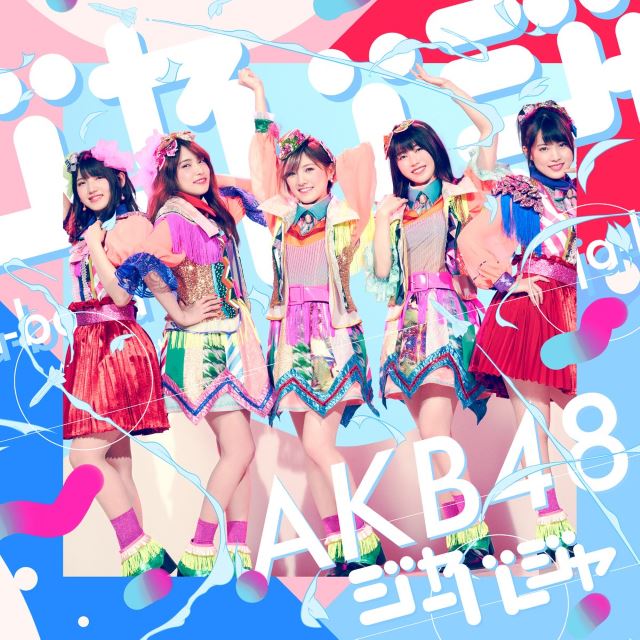 AKB48 will release their 51st single Jabaja (ジャーバージャ) on March 14th.
The selected members (senbatsu) for this single are: Iriyama Anna, Yokoyama Yui, Mukaichi Mion, Kato Rena, Ma Chia-Ling, Yuki Kashiwagi (AKB48 & NGT48), Kojima Mako, Komiyama Haruka, Takahashi Juri, Murayama Yuiri, Okada Nana (AKB48 & STU48), Okabe Rin, Oguri Yui, Kuranoo Narumi, Matsui Jurina (SKE48), Obata Yuna (SKE48), Suda Akari, Yamamoto Sayaka (NMB48), Shiroma Miru (NMB48), Ota Yuuri (NMB48), Sashihara Rino (HKT48), Tanaka Miku (HKT48), Miyawaki Sakura (AKB48 & HKT48), Matsuoka Hana (HKT48), Ogino Yuka, Nakai Rika (NGT48) and Takino Yumiko (STU48).
The girl who had the center position is Okada Nana (AKB48 & STU48).
The short versions of the MVs have been unveiled.
This single will be available in several editions of which one sold only to the AKB48 theater.
Each sister group performs a song in this single.
During the first sales of limited editions, the latter will come with a ticket event to participate in one of the launch events of the single.
Tracklist
Type A

CD

Jabaja (ジャーバージャ)
Pedal to Sharin to Kita Michi to (ペダルと車輪と来た道と) (STU48)
Ai no Moake (愛の喪明け) (SKE48)
Jabaja (off vocal ver.)
Pedal to Sharin to Kita Michi to (off vocal ver.)
Ai no Moake (off vocal ver.)

DVD

Jabaja (Music Video)
Pedal to Sharin to Kita Michi to (Music Video)
Ai no Moake (Music Video)
Type B

CD

Jabaja (ジャーバージャ)
Pedal to Sharin to Kita Michi to (ペダルと車輪と来た道と) (STU48)
Heta wo Utsu (下手を打つ) (NMB48)
Jabaja (off vocal ver.)
Pedal to Sharin to Kita Michi to (off vocal ver.)
Heta wo Utsu (off vocal ver.)

DVD

Jabaja (Music Video)
Pedal to Sharin to Kita Michi to (Music Video)
Heta wo Utsu (Music Video)
Type C

CD

Jabaja (ジャーバージャ)
Pedal to Sharin to Kita Michi to (ペダルと車輪と来た道と) (STU48)
Buttaoreru Made (ぶっ倒れるまで) (HKT48)
Jabaja (off vocal ver.)
Pedal to Sharin to Kita Michi to (off vocal ver.)
Buttaoreru Made (off vocal ver.)

DV

Jabaja (Music Video)
Pedal to Sharin to Kita Michi to (Music Video)
Buttaoreru Made (Music Video)
Type D

CD

Jabaja (ジャーバージャ)
Position (AKB48 Wakate Senbatsu)
Tomodachi de Imashou (友達でいましょう) (NGT48)
Jabaja (off vocal ver.)
Position (off vocal ver.)
Tomodachi de Imashou (off vocal ver.)

DVD

Jabaja (Music Video)
Position (Music Video)
Tomodachi de Imashou (Music Video)
Type E

CD

Jabaja (ジャーバージャ)
Position (AKB48 Wakate Senbatsu)
Kokkyou no Nai Jidai (国境のない時代) (SakamichiAKB)
Jabaja (off vocal ver.)
Position (off vocal ver.)
Kokkyou no Nai Jidai (off vocal ver.)

DVD

Jabaja (Music Video)
Position (Music Video)
Kokkyou no Nai Jidai (Music Video)
Theater Edition

CD

Jabaja (ジャーバージャ)
Pedal to Sharin to Kita Michi to (ペダルと車輪と来た道と) (STU48)
Tomodachi ga Dekita (友達ができた) (Macharin to Nakamatachi.)
Jabaja (off vocal ver.)
Pedal to Sharin to Kita Michi to (off vocal ver.)
Tomodachi ga Dekita (off vocal ver.)
Music Video (PV)