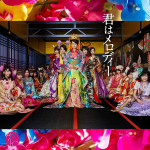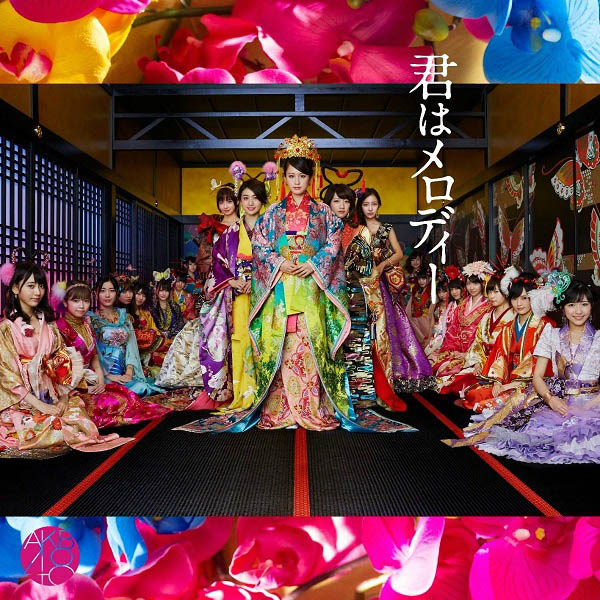 The new single of AKB48 Kimi wa Melody (君はメロディー) will be on sale on March 9.
This is the 43rd single of the idol group. It celebrates for the second time the 10th anniversary of the group (after the recent release of a compilation album in last November).
For this occasion, some former members such as the popular Maeda Atsuko, Itano Tomomi, Shinoda Mariko and Oshima Yuko make a brilliant appearance on the covers of singles and the clip. Although they have not participated in the recording of the single in its entirety, they perform the title track.
This will be the last appearance of the general manager Takahashi Minami whose graduation date is scheduled for this March.
The senbatsu members are : Iriyama Anna, Kojima Haruna, Shimazaki Haruka, Takahashi Minami, Yokoyama Yui, Minegishi Minami, Mukaichi Mion, Kato Rena, Kizaki Yuria, Watanabe Mayu, Kashiwagi Yuki, Matsui Jurina, Yamamoto Sayaka, Sashihara Rino, Miyawaki Sakura, Kitahara Rie, Miyazawa Sae, Itano Tomomi, Oshima Yuko, Shinoda Mariko, Maeda Atsuko.
The center member of the title song is Miyawaki Sakura.
On the single cover, the members are dressed in lovely and colorful kimonos highlighting the beauty of the young Japanese woman.
The single will be available in several editions: regular editions rated A, B, C, D and E with their limited editions with the same rating.
A special edition will be sold at AKB48 theater.
The sister groups SKE48, NMB48, HKt48, and NGT48 each interpret a different song as single edition. Some Nogizaka46 members also participated in a single song in collaboration with AKB48.
Discover the video clip of Kimi wa Melody in short version below.
Tracklist
Type A

CD

Kimi wa Melody (君はメロディ)
LALALA Message (LALALAメッセージ) (Jisedai Senbatsu)
Gonna Jump (SKE48)
Kimi wa Melody (off vocal ver.)
LALALA Message (off vocal ver.)
Gonna Jump (off vocal ver.)

DVD

Gonna Jump (Music Video)
LALALA Message (Music Video)
Kimi wa Melody (Music Video)
Type B

CD

Kimi wa Melody (君はメロディ)
LALALA Message (LALALAメッセージ)
Shigamitsuita Seishun (しがみついた青春) (NMB48)
Kimi wa Melody (off vocal ver.)
LALALA Message (off vocal ver.)
Shigamitsuita Seishun (off vocal ver.)

DVD

Kimi wa Melody (Music Video)
LALALA Message (Music Video)

of the

Shigamitsuita Seishun (Music Video)
Type C

CD

Kimi wa Melody (君はメロディ)
LALALA Message (LALALAメッセージ)
Make noise (HKT48)
Kimi wa Melody (off vocal ver.)
LALALA Message (off vocal ver.)
Make noise (off vocal ver.)

DVD

Kimi wa Melody (Music Video)
LALALA Message (Music Video)
Make noise (Music Video)
Type D

CD

Kimi wa Melody (君はメロディ)
LALALA Message (LALALAメッセージ)
Max Toki 315go (Maxとき315号) (NGT48)
Kimi wa Melody (off vocal ver.)
LALALA Message (off vocal ver.)
Max toki 315go (off vocal ver.)

DVD

Kimi wa Melody (Music Video)
LALALA Message (Music Video)
Max Toki 315go (Music Video)
Type E

CD

Kimi wa Melody (君はメロディ)
LALALA Message (LALALAメッセージ)
Mazariau Mono (混ざり合うもの) (NogizakAKB)
Kimi wa Melody (off vocal ver.)
LALALA Message (off vocal ver.)
Mazariau Mono (off vocal ver.)

DVD

Kimi wa Melody (Music Video)
LALALA Message (Music Video)
Mazariau Mono (Music Video)
Theater Edition

CD

Kimi wa Melody (君はメロディ)
LALALA Message (LALALAメッセージ) (Jisedai Senbatsu)
M.T. ni Sasagu (M.T.に捧ぐ) (Team A)
Kimi wa Melody (off vocal ver.)
LALALA Message (off vocal ver.)
M.T. ni Sasagu (off vocal ver.)
Music Video (PV)