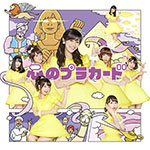 AKB48's 37th single Kokoro no Placard (心のプラカード) will be released on August 27.
The short version of the MV, its dance choreography and the covers have been unveiled.
The center is Watanabe Mayu who won the AKB48 37th Single Senbatsu Sousenkyo (AKB48 37thシングル 選抜総選挙) election.
AKB48 Team 8's first original song 47 no Suteki na Machi e (47の素敵な街へ) is on this single.
Sailor Zombie (セーラーゾンビ) by Milk Planet (Watanabe Mayu, Yokoyama Yui, Iwata Karen) is also on the single. It is the ending theme song for the drama Sailor Zombie starring several members of AKB48.
5 versions are available. The limited editions include a ticket for a handshake event with the members of the idol group.
They come with a DVD featuring the music video and bonus footage.
Tracklist
Type A

CD

Kokoro no Placard (心のプラカード) (Senbatsu)
Dareka ga Nageta Ball (誰かが投げたボール) (Under Girls)
Hito Natsu no Honkouki (ひと夏の反抗期) (Next Girls)
Kokoro no Placard (short ver.)
Kokoro no Placard (off vocal)
Dareka ga Nageta Ball (off vocal)
Hito Natsu no Honkouki (off vocal)

DVD

Kokoro no Placard (music video)
Kokoro no Placard (dance shot A)
Dareka ga Nageta Ball (music video)
Hito Natsu no Honkouki (music video)
Type B

CD

Kokoro no Placard (心のプラカード) (Senbatsu)
Dareka ga Nageta Ball (誰かが投げたボール) (Under Girls)
Seikaku ga Warui Onnanoko (性格が悪い女の子) (Future Girls)
Kokoro no Placard (short ver.)
Kokoro no Placard (off vocal)
Dareka ga Nageta Ball (off vocal)
Seikaku ga Warui Onnanoko (off vocal)

DVD

Kokoro no Placard (music video)
Kokoro no Placard (dance shot B)
Dareka ga Nageta Ball (music video)
Seikaku ga Warui Onnanoko (music video)
Type C

CD

Kokoro no Placard (心のプラカード) (Senbatsu)
Dareka ga Nageta Ball (誰かが投げたボール) (Under Girls)
Chewing Gum no Aji ga Nakunaru made (チューインガムの味がなくなるまで) (Upcoming Girls)
Kokoro no Placard (short ver.)
Kokoro no Placard (off vocal)
Dareka ga Nageta Ball (off vocal)
Chewing Gum no Aji ga Nakunaru made (off vocal)

DVD

Kokoro no Placard (music video)
Kokoro no Placard (dance shot C)
Dareka ga Nageta Ball (music video)
Chewing Gum no Aji ga Nakunaru made (music video)
Type D

CD

Kokoro no Placard (心のプラカード) (Senbatsu)
Sailor Zombie (セーラーゾンビ) (Milk Planet)
Oshiete Mommy (教えてMommy)
Kokoro no Placard (short ver.)
Kokoro no Placard (off vocal)
Sailor Zombie (off vocal)
Oshiete Mommy (off vocal)

DVD

Kokoro no Placard (music video)
Kokoro no Placard (dance shot D)
Sailor Zombie (music video)
Oshiete Mommy (music video)
Theater edition

CD

Kokoro no Placard (心のプラカード) (Senbatsu)
Dareka ga Nageta Ball (誰かが投げたボール) (Under Girls)
47 Suteki na Machi e (47の素敵な街へ) (Team 8)
Kokoro no Placard (short ver.)
Kokoro no Placard (off vocal)
Dareka ga Nageta Ball (off vocal)
47 Suteki na Machi e (off vocal)
Music Video (PV)
Covers