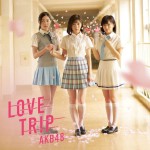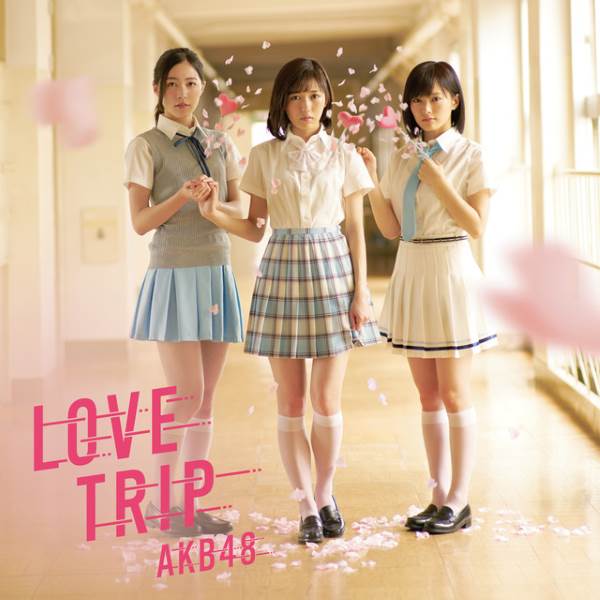 AKB48 will unveil its 48th single Love Trip on August 31.
The videoclips in full and short versions were posted on YouTube.
The single's center is Sashihara Rino.
The senbatsu members are : Shimazaki Haruka, Yokoyama Yui, Mukaichi Mion, Muto Tomu, Kashiwagi Yuki, Watanabe Mayu, Okada Nana, Takahashi Juri, Matsui Jurina, Suda Akari, Yamamoto Sayaka, Kodama Haruka, Sashihara Rino, Miyawaki Sakura, Kitahara Rie, Nyan Nyan Kamen (Kojima Haruna).
This single's theme is love.
The song Love Trip is used as the theme song for the dorama Toki wo Kakeru Shoujo.
The song Shiawase wo Wakenasai is used as the commercial theme song for Zexy, brand of wedding clothes. Furthermore, in the clip of this song, the AKB48 members is attending the fictional wedding of Sashihara Rino.
The song Hikari to Kage no Hibi is used as the theme song for the 2016 broadcast of Netto Koshien, and Black Flower is used as the theme song for the dorama Crow's Blood.
This single will be available in several editions inluding one which will be sold only in a theater of AKB48.
The membres Takeuchi Saki, Hidaka Yuzuki (SKE48 Team TII) and Inoue Yuriya (HKT48 Team H) participate in an AKB48's single for the first time.
Moreover, Kojima Haruna, a 1st generation member of the idol group, announced her graduation last few months. She is credited in this single under the name Nyan Nyan Kamen.
During the first sales of limited editions, they will come with an event ticket to have chance to attend one of the single launch events.
Tracklist
Type A

CD

LOVE TRIP
Shiawase wo Wakenasai (しあわせを分けなさい)
Hikari to Kage no Hibi (光と影の日々)
Densetsu no Sakana (伝説の魚) (Under Girls)
LOVE TRIP (off vocal ver.)
Shiawase wo Wakenasai (off vocal ver.)
Hikari to Kage no Hibi (off vocal ver.)
Densetsu no Sakana (off vocal ver.)

DVD

LOVE TRIP (Music Video)
Shiawase wo Wakenasai (Music Video)
Hikari to Kage no Hibi (Music Video)
Densetsu no Sakana (Music Video)
Type B

CD

LOVE TRIP
Shiawase wo Wakenasai (しあわせを分けなさい)
Hikari to Kage no Hibi (光と影の日々)
Shinka Shitenee jan (進化してねえじゃん) (Next Girls)
LOVE TRIP (off vocal ver.)
Shiawase wo Wakenasai (off vocal ver.)
Hikari to Kage no Hibi (off vocal ver.)
Shinka Shitenee jan (off vocal ver.)

DVD

LOVE TRIP (Music Video)
Shiawase wo Wakenasai (Music Video)
Hikari to Kage no Hibi (Music Video)
Shinka Shitenee jan (Music Video)
Type C

CD

LOVE TRIP
Shiawase wo Wakenasai (しあわせを分けなさい)
Hikari to Kage no Hibi (光と影の日々)
Kishi ga Mieru Umi Kara (岸が見える海から) (Future Girls)
LOVE TRIP (off vocal ver.)
Shiawase wo Wakenasai (off vocal ver.)
Hikari to Kage no Hibi (off vocal ver.)
Kishi ga Mieru Umi Kara (off vocal ver.)

DVD

LOVE TRIP (Music Video)
Shiawase wo Wakenasai (Music Video)
Hikari to Kage no Hibi (Music Video)
Kishi ga Mieru Umi Kara (Music Video)
Type D

CD

LOVE TRIP
Shiawase wo Wakenasai (しあわせを分けなさい)
Hikari to Kage no Hibi (光と影の日々)
2016 Nen no Invitation (2016年のInvitation) (Upcoming Girls)
LOVE TRIP (off vocal ver.)
Shiawase wo Wakenasai (off vocal ver.)
Hikari to Kage no Hibi (off vocal ver.)
2016 Nen no Invitation (off vocal ver.)

DVD

LOVE TRIP (Music Video)
Shiawase wo Wakenasai (Music Video)
Hikari to Kage no Hibi (Music Video)
2016nen no Invitation (Music Video)
Type E

CD

LOVE TRIP
Shiawase wo Wakenasai (しあわせを分けなさい)
Hikari to Kage no Hibi (光と影の日々)
Hikari no Naka e (光の中へ) (Baito AKB Paruru Senbatsu)
LOVE TRIP (off vocal ver.)
Shiawase wo Wakenasai (off vocal ver.)
Hikari to Kage no Hibi (off vocal ver.)
Hikari no Naka e (off vocal ver.)

DVD

LOVE TRIP (Music Video)
Shiawase wo Wakenasai (Music Video)
Hikari to Kage no Hibi (Music Video)
Hikari no Naka e (Music Video)
Theater Edition

CD

LOVE TRIP
Shiawase wo Wakenasai (しあわせを分けなさい)
Hikari to Kage no Hibi (光と影の日々)
BLACK FLOWER
LOVE TRIP (off vocal ver.)
Shiawase wo Wakenasai (off vocal ver.)
Hikari to Kage no Hibi (off vocal ver.)
BLACK FLOWER (off vocal ver.)
Music Video (PV)