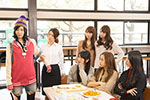 So Long! drama starring AKB48 will be aired on February 11-13 on NTV (Nippon Television).
This is a 3 episode drama.
Team A episode is centered on Shinoda Mariko and Watanabe Mayu as ballerinas in a ballet school.
Team K episode focuses on a sister rivalry between Oshima Yuko and Matsui Jurina.
Team B episode is featuring Kojima Haruna and Shimazaki Haruka as teacher and student.
AKB48's 30th single So Long! will be released on January 30.
The series will be released on DVD and Blu-ray on June 28.