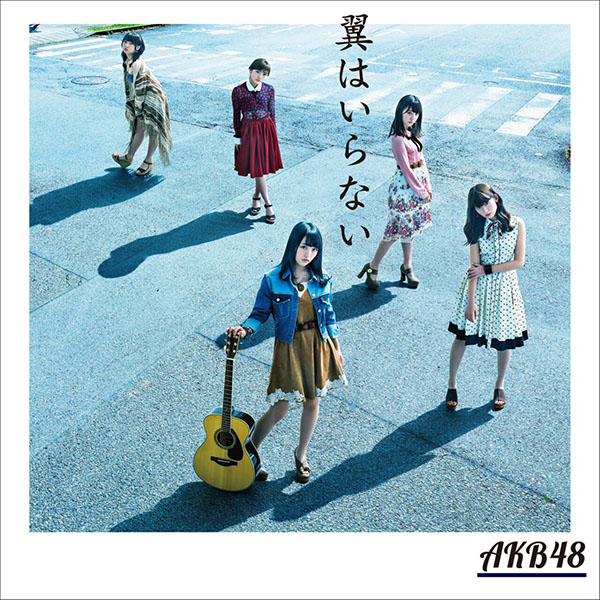 The new single of AKB48 Tsubasa wa Iranai (翼はいらない) will be sold on June 1st.
This is the 44th single of the popular idol group.
The center member is Mukaichi Mion.
Check out the MVs.
Several editions will be released : limited and regular editions rated A, B and C and a special edition sold in AKB48 theater only.
The sebatsu members for the title song are : Iriyama Anna, Oya Shizuka, Kojima Haruna, Shimazaki Haruka, Hiwatashi Yui, Miyazaki Miho, Yokoyama Yui, Minegishi Minami, Mukaichi Mion, Mutou Tomu, Oshima Ryoka, Kato Rena, Kizaki Yuria, Watanabe Mayu, Kashiwagi Yuki, Okada Nana, Kawamoto Saya, Kojima Mako, Takahashi Juri, Yamada Nanami, Matsui Jurina, Kitagawa Ryoha, Goto Rara, Suto Ririka, Yamamoto Sayaka, Shiroma Miru, Sashihara Rino, Kodama Haruka, Miyawaki Sakura, Kato Minami, Kitahara Rie, Takakura Moeka.
The sister groups SKE48, NMB48, NGT48 usually participated in some songs of this single of AKB48. This is second appearance of NGT48 after the single Kimi wa Melody ; all NGT48 members participated in a song Kimi wa Doko ni Iru? from the Theater edition.
Tracklist
Tsubasa wa Iranai (翼はいらない)
Set me free (Team A)
Koi wo Suru to Baka wo Miru (恋をすると馬鹿を見る) (Team B)
Tsubasa wa Iranai (off vocal ver.)
Set me free (off vocal ver.)
Koi wo Suru to Baka wo Miru (off vocal ver.)
Tsubasa wa Iranai (Music Video)
Set me free (Music Video)
Koi wo Suru to Baka wo Miru (Music Video)
Tsubasa wa Iranai (翼はいらない)
Set me free (Team A)
Kangaeru Hito (考える人) (Team 4)
Tsubasa wa Iranai (off vocal ver.)
Set me free (off vocal ver.)
Kangaeru Hito (off vocal ver.)
Tsubasa wa Iranai (Music Video)
Set me free (Music Video)
Kangaeru Hito (Music Video)
Tsubasa wa Iranai (翼はいらない)
Aishuu no Trumpeter (哀愁のトランペッター) (Team K)
Yume e no Route (夢へのルート) (Team 8)
Tsubasa wa Iranai (off vocal ver.)
Aishuu no Trumpeter (off vocal ver.)
Yume e no Route (off vocal ver.)
Tsubasa wa Iranai (Music Video)
Aishuu no Trumpeter (Music Video)
Yume e no Route (Music Video)
Tsubasa wa Iranai (翼はいらない)
Aishuu no Trumpeter (哀愁のトランペッター) (Team K)
Kimi wa Doko ni Iru? (君はどこにいる) (NGT48)
Tsubasa wa Iranai (off vocal ver.)
Aishuu no Trumpeter (off vocal ver.)
Kimi wa Doko ni Iru? (off vocal ver.)
Music Video (PV)