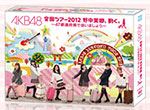 AKB48 Zenkoku Tour 2012 Nonaka Misato Ugoku ~47 Todoufuken de Aimashou~ (AKB48全国ツアー2012 野中美郷、動く。~47都道府県で会いましょう~) will released on DVD on March 16.
The special DVD box includes the concerts of Team A in Fukuoka, Team K in Tochigi, Team B in Osaka, and Team 4 in Ibaraki.
It also comes with a bonus disc featuring making-of footage, 5 photos randomly selected, and a 8-page booklet.
Check out the setlist for each live performance.
AKB48 Team A in Fukuoka
Setlist (06/04/2012)
Overture
Party ga Hajimaru Yo (Partyが始まるよ)
Only Today
Tadaima Renaichuu (ただいま 恋愛中)
Everyday, Katyusha (Everyday、カチューシャ)
Nagekiss de Uchiotose! (投げキッスで撃ち落せ!)
Faint
Wagamama na Nagareboshi (わがままな流れ星)
Dakishimeraretara (抱きしめられたら)
Temodemo no Namida (てもでもの涙)
Shoujotachi yo (少女たちよ)
Beginner
Tsukimisou (月見草)
Iiwake Maybe (言い訳Maybe)
Flying Get (フライングゲット)
Kaze wa Fuiteiru (風は吹いている)
Ponytail to Shushu (ポニーテールとシュシュ)
Kurumi to Dialogue (胡桃とダイアローグ)
Pioneer
Yuuhi wo Miteiru ka? (夕陽を見ているか?)
– Encore –
AKB Sanjou! (AKB参上!)
Dareka no Tame ni (誰かのために)
Oogoe Diamond (大声ダイヤモンド)
Hikoukigumo (ひこうき雲)
Heavy Rotation (ヘビーローテーション)
Give me Five!
AKB48 Team K in Tochigi
Setlist (08/06/2012)
Overture
Himawari (向日葵)
Boku ni Dekiru Koto (僕にできること)
Nounai Paradise (脳内パラダイズ)
Saishuu Bell ga Naru (最終ベルが鳴る)
Candy (キャンディー)
Arashi no Yoru ni wa (嵐の夜には)
Maria
Hajimete no Jelly Beans (始めてのジェリービーンズ)
Kuchi Utsushi no Chocolate (口移しのチョコレート)
Reset
Kanojo ni Naremasu ka? (彼女になれますか?)
Uhho Uhhoho (ウッホウッホホ)
Ponytail to Shushu (ポニーテールとシュシュ)
Iiwake Maybe (言い訳Maybe)
Everyday, Katyusha (Everyday、カチューシャ)
Oogoe Diamond (大声ダイヤモンド)
Flying Get (フライングゲット)
Sougen no Kiseki (草原の奇跡)
Korogaru Ishi ni Nare (転がる石になれ)
Manatsu no Sounds Good! (真夏のSounds Good!)
– Encore –
Nakinagara Hohoende (泣きながら微笑んで)
Heavy Rotation (ヘビーローテーション)
Chance no Junban (チャンスの順番)
Bacchikoi K! (バッチコイK!)
Kaze wa Fuiteiru (風は吹いている)
To Be Continued
AKB48 Team B in Osaka
Setlist (10/07/2012)
Overture
Shonichi (初日)
Yobisute Fantasy (呼び捨てのファンタジー)
Love Jump (ラブ・ジャンプ)
Iiwake Maybe (言い訳Maybe)
Tenshi no Shippo (天使のしっぽ)
Dakishimeraretara (抱きしめられたら)
Shinkirou (蜃気楼)
Idol Nante Yobanaide (アイドルなんて呼ばないで)
Confession
Seifuku ga Jama wo Suro (制服が邪魔をする)
Inochi no Tsukaimichi (命の使い道)
Ai no Stripper (愛のストリッパー)
Renai Circus (恋愛サーカス)
Flying Get (フライングゲット)
Kaze wa Fuiteiru (風は吹いている)
Beginner
Ponytail to Shushu (ポニーテールとシュシュ)
Oogoe Diamond (大声ダイヤモンド)
Yuuhi wo Miteiru ka? (夕陽を見ているか?)
Bokutachi no Kami Hikouki (僕たちの紙飛行機)
– Encore –
Kurukuru Paa (くるくるぱー)
Honest Man (オネストマン)
Team B Oshi (チームB推し)
Heavy Rotation (ポニーテールとシュシュ)
Manatsu no Sounds Good! (真夏のSounds Good!)
AKB48 Team 4 in Ibaraki
Setlist (17/10/2012)
Overture
Heavy Rotation (ポニーテールとシュシュ)
Everyday, Katyusha (Everyday、カチューシャ)
Hatsuko wa Minoranai (初恋は実らない)
Hashire! Penguin (走れ!ペンギン)
Hajimete no Jelly Beans (始めてのジェリービーンズ)
Blue Rose
Wagamama na Nagareboshi (わがままな流れ星)
Kuchi Utsushi no Chocolate (口移しのチョコレート)
Gomen ne, Jewel (ごめんね、ジュエル)
Manatsu no Sounds Good! (真夏のSounds Good!)
Ponytail to Shushu (ポニーテールとシュシュ)
Kimi no Koto ga Suki Dakara (君のことが好きだから)
Bingo!
Yuuhi wo Miteiru ka? (夕陽を見ているか?)
10-nen Zakura (10年桜)
Oogoe Diamond (大声ダイヤモンド)
Iiwake Maybe (言い訳Maybe)
Beginner
River
Kaze wa Fuiteiru (風は吹いている)
– Encore –
Flying Get (フライングゲット)
Enjoy 4! (エンジョイ4!)
Boku no Taiyou (僕の太陽)
Shoujotachi yo (少女たちよ)
Gingham Check (ギンガムチェック)
Arigatou (アリガトウ)