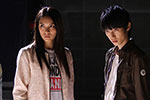 Former AKB48 member Akimoto Sayaka will be starring in the movie Doreiku Boku to 23-nin no Dorei (奴隷区 僕と23人の奴隷).
The story is based on a popular manga of the same name by Okada Shinichi published on the website E☆Everystar (E☆エブリスタ). 23 people participate in a game and can use a special item to turn other players into their slaves.
The trailer has been released.
Akimoto Sayaka and Hongo Kanata play the lead roles in the movie.
The film was directed by Sakichi Sato.
Doreiku Boku to 23-nin no Dorei will be released in theaters on June 28 in Japan.
The theme song is performed by the rock band Nightmare.
A special website has been opened : http://doreiku-movie.com/
Trailer