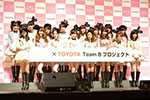 The creation of AKB48 Team 8 has been announced.
The concept of AKB48 Team 8 is different from the existing units. It is : "idols go to meet you". Instead of performing in Akihabara, the members of the idol unit will hold live performances in various regions of Japan in order to see their fans.
Auditions will start from January 24. Only one member will be selected in each one of the 47 Japanese Prefectures.
A video introducing the project has been released.
This project is made in collaboration between AKB48 and Toyota. The Japanese automaker company will support the activities of Team 8.
The announcement was made on January 23 on the 1st day of AKB48 Request Hour Setlist Best 200 2014 (AKB48リクエストアワー セットリストベスト200 2014) at Tokyo Dome City Hall.
Update (03/04/2014) : AKB48 Team 8 Members