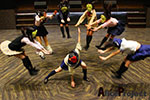 In recent weeks, you have probably discovered the Hadouken / Kamehameha meme in which people take pictures of themselves using the special attacks of the same name from the Street Fighter and Dragon Ball series.
Alice Juban members made their own version of the popular internet meme.
Watch out the photos.