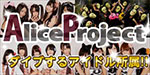 Alice Project (アリスプロジェクト) is consisting of several idol groups : Alice Juban (アリス十番), Steamgirls (スチームガールズ), Machikado Keiki Japan (街角景気☆Japan↑), Oz, Pa-Ken (ぱー研!), Armor Girls (アーマーガールズ), and more. These units hold live performances everyday at P.A.R.M.S Theater in Akihabara in Tokyo.
P.A.R.M.S Theater opened on January 4, 2013. It has capacity of 400 people, what is bigger than AKB48 Theater.
The venue is dedicated to Alice Project units.
Schedule
Usually, there are 2 shows on weekdays, and 3 on weekends.
Opening hours from Monday to Friday :
Opening
Start
End
End of the
goods sale
1st Show
17:30
17:50
19:25
20:00
2nd Show
20:15
20:30
21:40
22:25
Opening hours on Saturday and Sunday :
Opening
Start
End
End of the
goods sale
1st Show
10:30
11:05
13:40
14:35
Free Show
14:45
15:00
16:00
16:50
2nd Show
18:00
18:15
20:50
22:05
After each performance, the fans can buy items (CD, DVD, T-shirt, …) of each group.
They can also take a photo with some members for 1000 or 2000 yen. The picture is signed by the idols.
A token given at the entrance allows them to vote for their favorite members. A ranking is regularly established.
The schedule is available on P.A.R.M.S Theater website and below :
Tickets
The concert tickets can be bought at the front desk of Pasela Resorts building where the venue is located.
They are also sold by Lawson on the internet and at the convenience stores (konbini). In addition, a 500 yen drink ticket has to be bought on the door.
The price of the tickets is as follows :
Reservation
Regular
Buffet
Ladies
Children
Weekday
1,000 円
1,500 円
5,000 円
500 円
(Wednesday)
0 円
(Thursday)
Weekend
2,500 円
3,000 円
–
0 円
0 円
Location
P.A.R.M.S Theater is located in Akihabara in Tokyo. It is at the 7th floor of Pasela Resorts building.
The access is 5 minutes by foot from Akihabara station.
The address of the venue is :
Tokyo Chiyoda-ku Sotokanda 1-1-10
(東京都千代田区外神田1−1−10)
For further information : http://www.alice-project.biz/parms