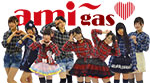 ami~gas (アミーガス) is a group formed in 2011.
It currently consists of 13 members.
The idol unit is based in Fukui prefecture.
Biography / History
ami~gas was originally formed as a group of fashion models for Al Plaza Ami stores in Spring 2011.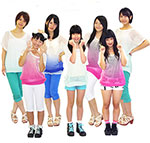 They became idols one year later in Spring 2012.
The leader is Yutan.
Mao, Yutan and Mika are also members of Seno Sister (せのしすたぁ).
Kunika and Kuniho are twin sisters.
ami~gas hold a live performance every Friday at Fukui JR station.
The girls participated in many events and radio shows in other prefectures.
Profile
ami~gas (アミーガス)
Years active : 2012 – present
Label : Creative Office Showcase
Agency : Al Plaza Ami
Members
Mao (まお)
Yurina (ゆりな)
Yui (ゆい)
Yutan (ゆーたん)
Mika (みか)
Mina (みな)
Kunika (くにか)
Kuniho (くにほ)
Manami (まなみ)
Miyu (みゆう(大))
Anna (あんな)
Sara (さら)
Miyu (みゆう(小))
Former Members
Chika (ちか)
Jessica (ジェシカ)
Hanna (はんな)
Misaki (みさき)
Ayano (あやの)
Hinano (ひなの)
Yuma (ゆま)
Yuuho (ゆうほ)
Sakura (さくら)
Honoka (ほのか)
Discography
Singles
06/10/2012 : Idol Song o toku Pack (アイドルソングお得パック)
23/03/2013 : We are ami~gas
Albums
Links
News