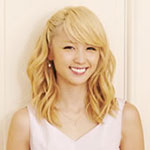 Ami (E-Girls, Dream) is going to make her solo debut this summer.
This news was announced during E-Girls Live Tour 2015 Colorful World final performance on April 29 at Saitama Super Arena.
The title and the release date of Ami's 1st solo single will be unveiled later.
Ami said that she was very suprised by this decision. She told that she was excited by this new challenge. She is a member of Dream for 14 years.
Furthermore, E-Girls' new single Anniversary!! will be released on May 20.
Dream's latest CD Konna ni mo (こんなにも) is on sale since February 11.