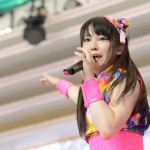 Team Syachihoko announced that Ando Yuzu suspended activities for an indefinite period of time due to poor physical health.
Ando Yuzu reported on her blog in November that she had been diagnosed with vertigo. She went on temporary hiatus, and she wasn't able to participate in release events for Team Syachihoko's mini-albums Iijanaika and Eejanaika at the end of last year.
As she hasn't recovered yet, the staff of the idol group decided to let her more time before her comeback in the near future.