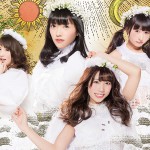 Aoyama Saint Hachamecha High School (青山☆聖ハチャメチャハイスクール) is a Japanese idol group formed in August 2012.
They are also known as Mecha High (メチャハイ).
It currently consists of 4 members. Each one has been assigned a color.
Aoyama Saint Hachamecha High School aims to give a concert at Nippon Budokan and to make their major debut.
Biography / History
Aoyama Saint Hachamecha High School participated in the show Shibuara Nico Sei Idol Collection (しぶはら★ニコ生アイドルコレクション) broadcast on Nico Nico Douga 6008ch in early 2012.
The idol group had to get 1000 copies of their 1st single Hachamecha School Days (ハチャメチャスクールデイズ!) pre-ordered to make their debut in August 2012.
The girls performed in the show Totsudeki! Mecha High Shoutai Daisakusen! (突撃!メチャハイ小隊大作戦!!) broadcast on the internet in late 2012
Aoyama Saint Hachamecha High School held their 1st live performance in December 2012 at Shibuya Glad in Tokyo.
The idol group hosts a regular segment on Uta Musume (ウタ娘) on TV Saitama (TVテレビ埼玉) since March 2013. Their 2nd single Meccha High!! (めっちゃHigh!!) was the opening theme song for the show.
In September 2013, they had a special collaboration with Mad Box Zombies (マッドボックスゾンビーズ) for the anime of the same name.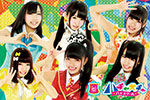 Their 4th single Starting Over, released in March 2014, was the opening theme song for the TV show Rank Oukoku (ランク王国) airing on TBS.
Yuuki Miho withdrew in April 2014 due to poor physical health.
In May 2014, the funny video of the street fight Aoyama Saint Hachamecha High School vs Choshinjuku has been released. It was made to promote a special live performance of both groups.
A few weeks later, Miura Sena left the unit to take a break.
Yamada Rin graduated in August 2014.
As a result, Mochiduki Mirei, Narai Yume and Shiraishi Momo were recruited as new members in the summer.
In September 2014, it was revealed that, unlike the official announcements, Yuuki Miho and Miura Sena had been fired for having love relationships. The management agency demanded to the girls and their boyfriends to pay for the damages.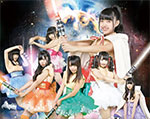 The artwork of Mecha High's 5th single Beyond the Darkness was inspired by Star Wars. The CD went on sale in January 2015.
Mizuhara Shiori joined the idol group as a 3rd generation member in February 2015.
Shiraishi Momo graduated in March 2015.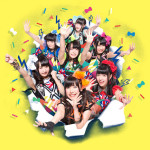 Aoyama Saint Hachamecha High School major debut single Never Mind was released in June 2015 under Universal Music Japan's label EMI Records. The only condition is to get at least 2000 people to their 4th live Vanishing Point held in April 2015 at Zepp Tokyo. Fortunately, they succeeded.
Mochiduki Mirei graduated in August 2015.
She was replaced by Hoshizono Marin at the same time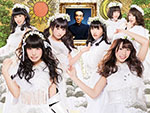 The single Mecha High no Tenchi Souzou (メチャハイの天地創造), on sale in March 2016, was made in collaboration with composer Niigaki Takashi.
Sakaki Hitomi, Narai Yume and Mizuhara Shiori announced their graduation in April 2016. They left the idol group after the Tokyo Idol Festival 2016 in August.
Their 2nd album Loveless was released in July 2016.
Aoyama Saint Hachamecha High School officially changed their name to Mecha High in August 2016.
Profile
Aoyama Saint Hachamecha High School (青山☆聖ハチャメチャハイスクール)
Years active : 2012 – present
Label : EMI Records
Agency : Moving Factory
Members
Imamura Misaki (今村美咲) – Orange
Sayama Shiho (咲山しほ) – White
Saida Ayaka (菜田彩佳) – Red

Hoshizono Marin (星園まりん) – Purple
Former Members
Yuuki Miho (結城美帆) – Purple
Miura Sena (美浦聖奈) – Blue
Yamada Rin (山田如凜) – Yellow

Shiraishi Momo (白石桃) – Black

Mochiduki Mirei (望月美怜) – Light Blue

Sakaki Hitomi (坂木ひとみ) – Green
Narai Yume (奈良井夢) – Pink

Mizuhara Shiori (水原汐莉) – Sky Blue
Discography
Singles
28/09/2012 : Hachamecha School Days (ハチャメチャスクールデイズ!)
07/03/2013 : Meccha High!! (めっちゃHigh!!)
20/08/2013 : Summer of Love (サマーオブラブ)
11/03/2014 : Starting Over
06/01/2015 : Beyond the Darkness
24/06/2015 : Never Mind
09/03/2016 : Mecha High no Tenchi Souzou (メチャハイの天地創造)
Albums
21/12/2013 : Destroy All Monsterz
31/07/2016 : Loveless
Links
News