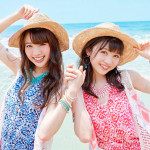 Arai Hitomi (Tokyo Girls' Style) and Shida Yuumi (Yumemiru Adolescence) announced to form a new idol unit Shida Summer Arai Summer! (志田サマー新井サマー).
As you might have guessed, the name of the group contains the members' surnames ; this is a temporary group which will be active during next summer only.
The duo announced that it will release a new single entitled Shakunetsu Summer ~SUMMER KING x SUMMER QUEEN~ (アッパーな「灼熱サマー ~SUMMER KING × SUMMER QUEEN~) on July 6.
The tracklist wasn't unveiled yet but the single will be sold in regular and limited editions. More informations about this single will be annouced later.
Futhermore, Tokyo Girls' Style released its 5th album Reflection in last December.
Whereas Yumemiru Adolescence released its new single Oshiete Schrödinger on last April 27.