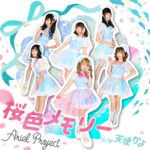 Ariel Project's new single Sakurairo Memory (桜色メモリー) will be released on March 3rd.
This is the first CD of Ariel Project, an idol group from Hong Kong, to be released in Japan. It features 2 songs, Sakurairo Memory and Tenshi no ka, which are popular among fans at their live performances.
Sound producer Kubo Naoki, who has collaborated with artists such as Silent Siren, worked on this single.
Formed in the summer 2015, Ariel Project debuted their activities a few months later in the winter. Based in Hong Kong, the idol group is also active in China (Shanghai, Guangzhou…), Taiwan and Japan. It aims to spread Japanese idol culture to the world. The group participated in large events such as the Hong Kong Idol Festival, TALE Festival, @JAM in Japan… Ariel Project members work also as fashion models for Famitsu Hong Kong.
Several release events have been held in January and February across Japan.
Tracklist
Sakurairo Memory (桜色メモリー)
Tenshi ka yo (天使かよ)
Sakurairo Memory (Instrumental)
Tenshi ka yo (Instrumental)