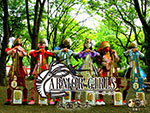 Armor Girls (アーマーガールズ) is a Japanese idol group formed in December 2013.
They are part of Alice Project (アリスプロジェクト).
Armor Girls belong to Kamen Joshi (仮面女子) alongside Alice Juban and Steamgirls.
Summary
The idol group currently consists of 5 members.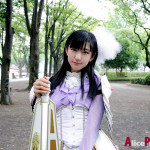 The center is Kuroki Hinako.
Armor Girls perform rock songs based on Irish music.
The girls wear an armor and a knight helmet on stage.
The idol unit is a sister group of Alice Juban, Steamgirls, Oz, Machikado Keiki Japan, Game Girls, Idol Yokai Kawayushi, and Alice of Nightmare.
The idol group holds live performance almost every day at P.A.R.M.S. Theater in Akihabara, Tokyo.
Related articles :
Biography / History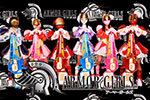 The original members were Amaki Jun, Kuroki Hinako, Ito Miu, Hoshino Manami, et Kubota Misa.
They graduated from Pa-Ken on December 30, and debuted with Armor Girls on December 31, 2013.
Kamen Joshi 1st one-man live was held in May 2014 at Zepp Tokyo.
Onodera Naho withdrew in January 2014.
Ito Miu was starring in Alice no Kamigakushi (アリスの神隠し) movie alongside Steamgirls' Koyanagi Tomoe and Alice Juban's Sakura Nodoka and Hayase Amu in July 2014.
Aizawa Mina and Tsukino Moa were transferred from Pa-Ken! in August 2014.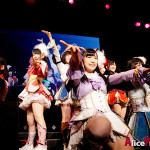 Kuroki Hinako was appointed in center position in August 2014.
Alice no Heya Genkidane! (アリスの部屋 元気種!) video game featuring the members of the idol group was released in September 2014.
Kamen Joshi performed the CM song for Marine Road (マリン☆ロード) in October 2014.
The idol group sang the opening theme for Hero Bank (ヒーローバンク) anime in October 2014.
Ito Miu graduated in November 2014.
Hoshino Manami left Armor Girls in December 2014.
The girls launched and promote Akiba Sandals (あきばサンダル) since the end of 2014. These shoes have a monster-like design.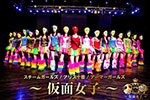 Kamen Joshi's single Genkidane (元気種☆) reached the 1st rank on the Oricon weekly chart in January 2015.
Kamen (Joshi's 1st photobook Mizugi Kamen (水着仮面 仮面女子) was published in February 2015. It features sexy pictures of popular members Tachibana Anna, Kamiya Erina and Amaki Jun in swimsuit, under the shower…
The girls participated in a commercial for S Cup (エスカップ) in February 2015.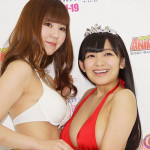 Amaki Jun won the U-19 Next Gravure Queen Battle (U-19ネクストグラビアクイーンバトルサードシーズン) in February 2015.
Amaki Jun and Aizawa Mina annnounced their graduation in March 2015.
Kusunoki Mayu and Momose Hitomi were promoted from Pa-ken! to Armor Girls in April 2015.
Yarikiri! Kamen Joshi ~Tenka Torunara Icchatte!~ (やりきり!仮面女子 ~天下取るなら、イッちゃって!~) TV variety show started airing on Tokyo MX in April 2015.
The idol group participated in Countdown Asia Festival in Jakarta, Indonesia, in June 2015.
Profile
Armor Girls (アーマーガールズ)
Years active : 2013 – present
Label : –
Agency : Alice Project
Members
Kuroki Hinako (黒木ひなこ)
Kubota Misa (窪田美沙)
Tsukino Moa (月野もあ)
Momose Hitomi (百瀬ひとみ)
Kusunoki Mayu (楠木まゆ)
Former members
Onodera Naho (小野寺なほ)
Ito Miu (伊藤みう)
Hoshino Manami (星野愛実)
Amaki Jun (天木じゅん)
Aizawa Mina (愛沢美奈)
Discography
Singles
Koutetsu Shoujo (鋼鉄少女)
Kokoroid (ココロイド)
Anatatona Lover (アナタトナLover)
An An Ai (鋼鉄愛(あいあんあい))
Mitsuro no Theme (ミツろぅのテーマ)
Kishi ni Narunoda! (騎士になるのだっ!)
Clap!
Matsuri Adventure (祭・アドベンチャー)
A!chu!A!chu!↑
Dango San Kyoudai (だんご三兄弟)
Kamen Joshi Singles
Love Is All
01/01/2015 : Genkidane (元気種☆)
Albums
Links
News