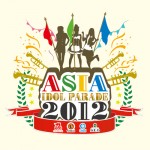 Asia Idol Parade 2012 will be held on September 30 in Tokyo.
Lives will take place at the same time at Club Asia, Glad, Lounge Neo and Vuenos.
LinQ, Mary Angel, JK21, Candy Go! Go!, Station♪, Kaiketsu! Tropical Maru, Sketch, SDN48's former members, and more than 80 other idol groups will participate in the event.
Schedule
Date : 30/09/2012
Time : 12:30
Venue : Club Asia / Glad / Lounge Neo / Vueno
Line up :

Kotone Mai
DokiDoki☆Dream Campus
Elastico
Links
Go! Go! Powerful Gakuen
Heiseikotohime
MYM Melody
Hazuki
Ikemoto Mao
Ponbashi wktk mates
Yuka
asfi
Space Girls Planet
Gal

♡

Doll
Flap Girls' School
Welove
K.J.K.
Sketch
Candy Go! Go!
LinQ
Daisy×Daisy
Imayoshi Megumi (ex SDN48)
Okochi Misa (ex SDN48)
JK21
Mary Angel
Clear's
Osaka BB Wave
Alice in Alice
Sakuragi Seira
Feam
ミ★pop
Barbie Lips
Barbee
Puchii Musume
Melody Lien
Yamato Nadeshiko
Akuma Doppy #@%&;∞*
Oh☆Campee
Marry Doll
Ito Momo
Oyama Aimi (ex SDN48)
Kaiketsu! Tropical Maru
BellRing Girls Heart
Nazuki Airu
S-Qty
Shibuya Sakiko
Coro☆Coro with Fukasawa Saki
Jelly Kiss
Pastel☆Joker
Ao Shun Gakuen
Power Spot
Ultra Girl
Negaigoto
eeniemenieminiemo
Takokusekigun
Neko Punch
Takiguchi Narumi
Morimoto Ami
Morisaki Airi
Hiraoka Natsumi
・・rutile・・
Nato☆Kan
Bond
Love La Doll
Run☆Run
Station♪
Decomate