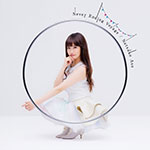 Aso Natsuko's new single Never Ending Voyage will be released on July 24.
It is the 12th single for Aso Natsuko, the presenter of the TV show Japan in Motion, who came in France at Japan Expo in early July.
The CD contains 2 songs and their instrumental versions.
Check out the music video.
Tracklist
Never Ending Voyage
Clear Sky Heroes
Never Ending Voyage (Instrumental)
Clear Sky Heroes (Instrumental)
Music Video (PV)