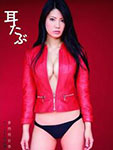 Kuramochi Asuka's 1st photobook Mimitabu (耳たぶ) will be released on September 11.
The photobook includes sexy pictures of the AKB48 member Kuramochi Asuka. The shooting was done in Yokohama.
The photobook has 120 pages in A4 format.
It comes with a poster.
The book is produced by Akimoto Yasushi. The photos were taken by Watanabe Tatsuo.
Furthermore, Kuramochi Asuka's 1st solo single Itsumo Soba ni (いつもそばに) is on sale since May 29.